Chugach State Park is a great site from the perspective that it is readily accessible from Anchorage. It takes no longer than fifteen minutes from the downtown core to reach the trail head parking lot. During late September, the area supports a large Moose population congregating for the fall rut. There is a five dollar daily fee for use of the park. There are no facilities other than at the parking lot so come prepared. You will definitely need warm, waterproof clothing, a few snacks and something to drink as it is an all day affair where the weather is likely to change radically. You will only need an intermediate lens, either a 70-200mm or a 100-400mm. We used the latter. Knee high rubber boots are absolutely essential as the low scrub is wet. As you will spend the majority of your time off the main trail, be aware that you can encounter bog conditions in almost any area.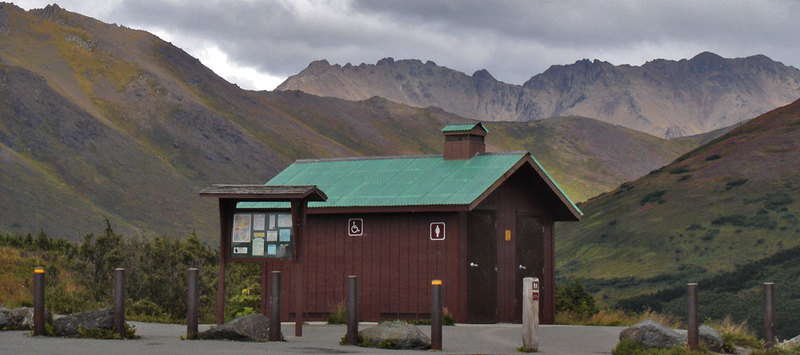 The best tact is to take the lower trail from the parking lot directly to the powerline road. This takes roughly fifteen minutes. You will undoubtedly have company as this is a favorite spot for hikers and walkers exercising dogs. Once there, turn right and walk about two city blocks until a trail appears on the left leading down to a creek and bridge. It's best to be wary as Moose are often resting in, or moving through, the enclosed areas. Once you start down, the valley is open and you can generally see larger animals with the naked eye. However, we recommend taking binoculars as you will have a much better chance of spotting a bull with a large rack. Cross the bridge and follow the trail as it moves up the lower slopes, keeping to the left at all times. We usually walk slowly for roughly two miles (just past the swamp). As we spot Moose, generally below us, we scope and decide whether to move down. Although we found they were docile and easy to approach, we recommend caution. As this was our first encounter, we always had an exit strategy to the nearest trees and tended to leave plenty of room while in the open. We did meet several seasoned local photographers who really had no fear in approaching quite close. Although bulls or cows, either alone or in groups, did not appear to have much interest in us, we drew the line at approaching cows with calfs in meadows or open terrain. We often encountered them on the enclosed upper trails and found it best to let them see us and allow some time to pass before approaching. However, with an intermediate or longer lens, it is not really necessary to get too close to take great shots. If you look carefully at the lower photograph, it should be easy to spot me watching a Moose prior to deciding where the light and background would provide a good result.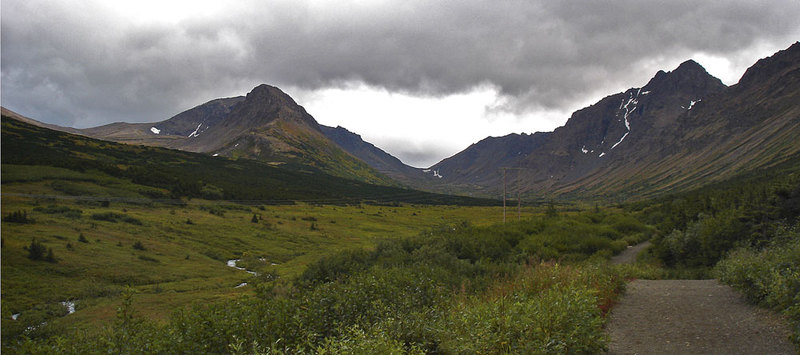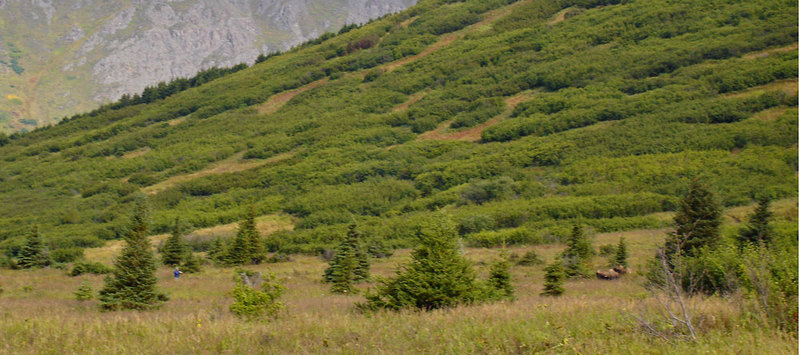 We also spent a day in Arctic Valley which is roughly an hour's drive from town. We tried to photograph Ptarmigan. Although they were in abundance midway up the main trail and feeding quietly, we had difficulty trying to pin them down with a decent backdrop. As there was so much low habitat, we basically wrote the day off to experience. The hike to the top provides a spectacular view and is worth the effort.
You can see the results of our visit in Gallery 17.
A personal bird archive is simply not complete without images of Bald Eagles. British Columbia is blessed with several good locations such as Brackendale in the Howe Sound and Harrision in the upper Fraser Valley. In our experience, however, the birds at both locations are difficult to approach and are often too far away or roosting amongst overgrown and distracting habitat. We were looking for action photography and felt there was no better place than coastal Alaska.
There are two prime locations. Haines sports the Valley of the Eagles where some 3000 birds congregate in early fall and winter. Homer, on the other hand, boasts Kachemak Bay, a 41-mile arm of Cook Inlet where photography is more an early spring event. We chose the latter option in late March as we were led to understand the birds are habituated to humans and can be compliant subjects if cautiously approached. Although you can photograph Bald Eagles on the beach along the Homer spit, the real action images can only be captured on the water. This requires knowledge of bird locations, tides and critical nautical conditions such as shallows and good anchor points to take advantage of positioning a boat for optimum photography. Weather can also be unbelievably transient in Alaska, often changing hourly from sunlight and calm water to rain or drizzle with gusts that make photography difficult. In our opinion, this is a venue you simply can't do on your own as there are too many variables that must be controlled. As such, we recommend a photo tour that has a knowledgeable guide that is familiar with the coastline. Our choice was Alan Murphy as he has photographed Bald Eagles in this area for years and includes a local song bird venue with his workshop. This five-day photo tour was an unbelievable experience which we highly recommend.
We needed only a handheld 300mm lens for most of the trip but learned some critical lessons. The first was shutter speed. We felt 1/3200 of a second would be sufficient for birds in flight. Although our images turned out to be acceptable, a setting of 1/4000 would have been a better choice. The second was the incredible action produced by the Glaucous-Winged Gulls as they dive and fratch over herring. They can certainly produce some exciting action images and shouldn't be neglected while you're concentrating on the Eagles. Our closing advice is to take as many images as possible as a good percentage of your shots will be of Eagles that have severely damaged primaries and dirt or other debris gleaned from their scavenging activities.
You can see the results of our visit in Gallery 98.
The Fish Creek Wildlife Observation Site, located in the Tongass National Forest, is a great location if you want to get extremely close to large Brown Bear in a safe environment. Our advice is that this is strictly an amateur site where decent bear photography is accomplished through patience and having the right lens. People, viewing height and weather are definite hinderances. There are positions for eye level shots but the bears are not always cooperative. As viewing is best between 6 and 9, morning and evening, light can also be problematic. If you have never photographed large bears, don't let this put you off. Access to Hyder is through Stewart in British Columbia. We travelled west from Prince George via Highway 16 to just past Hazelton where Highway 37 heads north to the Yukon border. At the junction of 37A you head west through breathtaking mountainous terrain, including the spectacular roadside Bear Glacier. We camped at the Rainy Creek Campground and took the short ten minute trip to Hyder each day. Camp Run-A-Muck on the USA side may be a better choice if the border is problematic for travel daily. Both have no full facility hookups but provide water and power.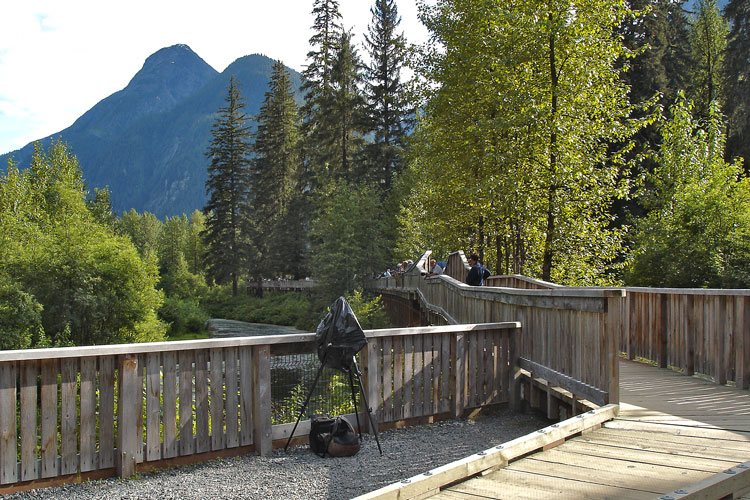 Bear Viewing Platform
The Fish Creek Wildlife Observation Site pictured above is operated by the Forest Service with Rangers on duty daily to ensure visitor safety. The walkways overlook spawning beds where the bears feed during late July and August, mostly on Pink and Chum salmon. There is a small lake or watershed at the rear near the central entrance where action can be quite prolific. Entry is now fee restricted at $5.00 per day or $10.00 for three days. As this is essentially a rain forest, an umbrella or equipment cover is absolutely necessary as the weather can change radically throughout the day. With darker than usual conditions, a good tripod and low light lens make photography at this site a lot easier. Lens choice should be no less than 400mm to 500mm for fixed locations but a handheld 300mm is best for positioning as the bears often just meander through the site. A 600mm lens can be extremely productive if you are a patient photographer.
You can see the results of our trips in Galleries 6 and 29.
If you feel adventurous when you leave Hyder, head north on the Cassiar Highway through Watson Lake to Liard Hotsprings. It's a great place to relax and camping is readily available. There is a large herd of wild Wood Bison to the west in the vicinity of Coal River. They can usually be seen from the highway and make great subjects as they move slowly. Stone Mountain Provincial Park is also a productive area for Mountain Caribou and Stone Sheep. You can see our results from this area in Galleries 7 and 8. Both are must stops if you plan to travel through British Columbia to the Yukon or Alaska.
THE ABOVE SIMPLY DESCRIBES OUR EXPERIENCE AT EACH LOCATION. WE ARE IN NO WAY RECOMMENDING YOU APPROACH THESE ANIMALS AS THEY ARE IN THE WILD AND SUBJECT TO UNPREDICTABILITY. PLEASE CONTACT A LOCAL GUIDE FOR INFORMATION ON BEHAVIOR AND TERRAIN IN EACH AREA.