Next to the Pond and Drip cited in our Arizona synopsis, the "Guzzlers" at Cabin Lake is absolutely the most prolific site we have visited in terms of species variety. Here you have the ability to practise perch photography virtually unencumbered by having to wait long periods for birds to arrive and produce great profiles. They seem to visit constantly, providing non-stop action. We've visited this location three times and photographed twenty four species in one four day visit alone! If you have never photographed a Red Crossbill, this is a must location.
Cabin Lake is roughly five miles north of Fort Rock in central Oregon. Access to the site is by a gravel road which is graded and very serviceable. Camping, either tent or RV, is available at the Horse Ranch RV Park roughly five miles west of Fort Rock near the Junction of Highway 31. The State Park at LaPine is a great camping area but we feel is too far from Cabin Lake to make daily trips practical. There is actually no lake as the terrain is high desert, very dry, with a volcanic caldera at Fort Rock (pictured below). The blinds are located at the edge of a pine forest next to a Forest Service complex that is abandoned but still maintained. As you can see from the picture below, the upper blind is rough but serviceable. The lower blind is in much better shape. Both have a small concrete water cistern roughly fifteen feet from the viewing window. It is important to note that Cabin Lake has no facilities and you must come prepared to rough it. Fort Rock has a restaurant but little else. There are camp sites at Cabin Lake but no water or washroom facilities are available.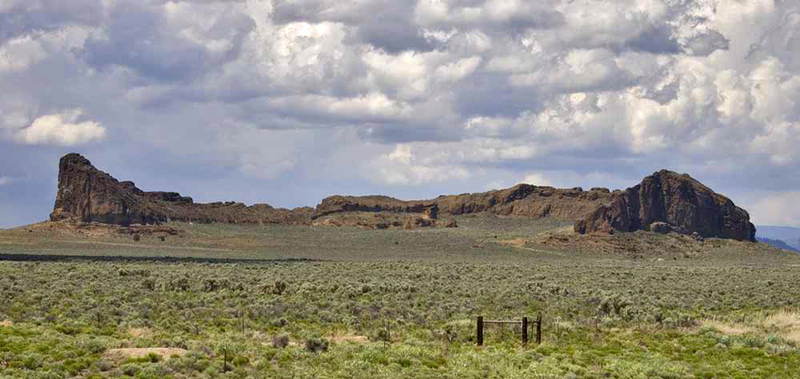 In order that you have a good photography experience and come prepared, it's best that we provide a word of caution regarding not only the weather in the Fort Rock area during late May and early June but also what we feel are the shortcomings of the blind structures for photography. It's not uncommon for the temperature to fluctuate widely from day to day, with occassional rain and wind. The latter generally keeps the smaller birds from visiting as frequently, especially to the upper blind. As this can often last for several days, it's best to plan some additional time. Severe gusts also play havoc with a portable blind. We use one as we feel the permanent structures are not really designed with perch photography in mind. As they were constructed to primarily accommodate birding, you will find they are positioned such that side light can be problematic during various times of the day. Moreover, the window openings are too small to accommodate a camera mounted flash, especially if you use a long lens on a tripod. As we are basically ambient light photographers, we resolve this issue by moving our portable blind throughout the day and changing the perch setups to accommodate morning and afternoon light. We try to address any annoying sidelight by using an external wireless flash (or several slaves off a master) for fill. Although our lens of choice is a 100-400mm, we do use a longer lens at the upper structure as it is positioned farther from the water source. We generally build two or three perches next to the water cisterns, one or two for smaller birds (typically the size of Cassin's Finch, Western Tanager, Mountain Bluebird, or Yellow-Rumped Warbler) and a higher perch placed back to accommodate larger visitors (most often Pinyon Jay and Clark's Nutcracker). If we decide to concentrate on Pygmy Nuthatch or Mountain Chickadee, it's relatively easy to move the blind up a couple of feet. It's best to bring a variety of perch material if you can and, of course, some basic tools to assist with setup. Although old stumps or smaller branches with colourful bark are fairly easy to find, there is very little foliage other than Sagebrush and large needle Pine in the area. Volcanic rock often makes an excellent perch.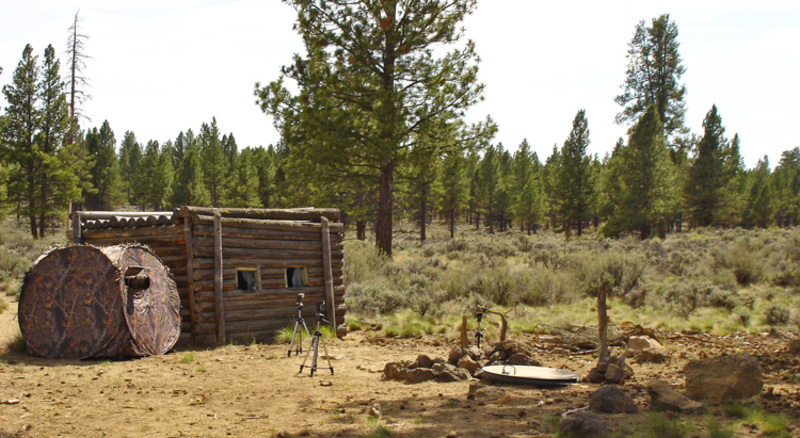 The blinds provide adequate viewing windows with a cloth or camoflage covering. Although the major site attraction is water, it is a good idea to use seed as a means of attracting and maintaining certain birds. We generally sprinkle some Wheat or hide Black Oils, the latter being a great attraction for the Least Chipmunk. We use both blinds simultaneously and keep in touch with hand-held UHF radios. It's definitely a good idea to bring a camp chair or cloth stool as the bench seats provided are hard on the posterior! We also take five gallons of water in case the cisterns are dry (which has never happened as both are monitored by diligent local residents) and a small tarp to cover gaps in the roof of the upper blind in the event of a temporary downpour. If you are unable to devote much time to this location, we recommend you use the lower blind as it is waterproof, sheltered somewhat from the wind and, more often than not, more productive than the upper site.
Although this area is home to several species of Woodpecker (Hairy, Lewis's and White-Headed), your perches need to be baited with nuts, larva or suet for a few days to help ensure more frequent vists. You should also be aware that the upper fence railings and lighter Sagebrush reflect light and may create unpleasant backdrops if you do not position or compensate accordingly.
You can see the results of our trips in Galleries 15, 28 and 39.
A visit to the Summer Lake Wildlife Area might provide opportunities to enhance your production from this area. It is roughly two hours southeast on Highway 31. Camping is available at the Ana Reservoir RV Park. There is an abandoned barn on the Refuge property that is a favourite fledging site for Great Horned Owl that nest in the Willows to the right of the structure. So as not to overly stress the Owls while in the barn, we recommend setting up on a tripod using the "mirror lock" feature with a "timed" no flash exposure. The Refuge may look bleak but but we have found breeding American Avocet and Cliff Swallows are in abundance. A return drive through Christmas Valley may reward you with road-side Red-Tailed Hawk or Pronghorn Antelope.
Although we recommend this location, our last visit to this area was disappointing. Several of the larger ponds on the road loop were dry, presumably for work that was underway with Ducks Unlimited. Although the improvements to habitat were markedly noticeable, fewer birds were present and those that were within photography distance with a long lens tended to flush at the sight of our truck. If you are just beginning, we wouldn't recommend this location for a habitat experience unless you have the patience of Job! However, there were Foster's Terns providing good flight shot opportunities and Great Horned Owl still nest in the Willow next to the abandoned barn and are well worth the trip as it's fairly easy to capture the adults roosting or their offspring fledging. This is best in late May. There are also colonies of Yellow-Bellied Marmot (known locally as "Rock Chuck") along Highway 31 that can be amazingly photogenic as they enjoy the sun or sit next to their burrows watching for impending danger.
If you have time and want to take advantage of the opportunities Northern California has to offer, the Klamath Basin lies roughly one-half day south. This is an area that houses six National Wildlife Refuges as well as a host of other productive wetlands, grasslands, parks and farm roads. It stretches from slightly east of Crater Lake in southern Oregon to the California state line. After a quick tour, we concentrated on the Tule Lake and Lower Klamath areas. Here we found miles of well maintained auto routes through open marsh and canal infrastructure. This is strictly window and bean bag territory where a long lens and extender are a must. Photography at this level is definitely not everyone's cup of tea. However, if you work the area, including the farm roads to the east of the Butte Valley National Grassland, it can be quite productive as breeding plummage is ever present and many of the marsh backdrops are quite good. Although the Visitor's Center offers eight photo blinds on a fee and reservation basis, with the exception of the Hill Marsh location, we found many of them either poorly placed or in such a state of disrepair as to be unuseable. This was hardly a calamity, as without a breeze the mosquito's were quite bothersome.
We definitely didn't do this area justise and intend to return when we have more time. Although we may have been a bit early, there were many Eared Grebe and Ringed-Neck Pheasant, although tough to pin down in a good setting. You can see the results of our brief introduction to this area in Gallery 27.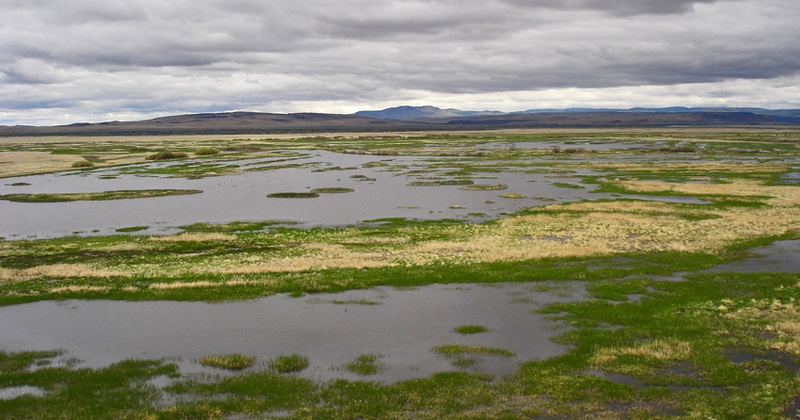 Located in the south eastern corner of Oregon in a geographic region known as the Northern Great Basin, this immense Refuge encompasses wetlands, riparian areas, meadows and uplands that traverse the length of the Blitzen Valley. Three migration routes converge on this area, making it one of the most important feeding and resting locations on the Pacific Flyway. We recommend taking the self-guided auto tour as the best way to become familiar with the area as it is well marked and will give you an idea of what species are present. As we have pointed out previously, driving and using a vehicle as a blind can be a frustrating process as it is very difficult to position for light and backdrop. However, we did do some prior research and had some target species and specific locations in mind. Most were gleaned from Don Baccus who has developed the most authoritative guide to this area (http://donb.furfly.net/malheur). His blog is particularly helpful in suggesting locations where specific species are generally in abundance and fairly compliant for a photographer with patience. Our quest was to capture Belding Ground Squirrel (Refuge Headquarters), Franklin Gull (Wright's Pond), White-Faced Ibis (ponds and fields along the Central Patrol Route), Bobolink and Wilson's Phalarope (bushes, ponds and fence posts bordering the flooded fields near Diamond). At times we did exit our vehicle as it was simply the only way to gain decent position. Thankfully, there are many locations where roadside bush or tall grasses provide sufficient cover. A good location for Common Nighthawk is the north side of Benson Pond where you can catch them roosting on Willow snags in the morning and early afternoon. Although we enjoyed our visit, it is an immense area to traverse and really only productive for a relatively few species. It's an area that must be worked to ferret out the good opportunities. Quite frankly, we found driving the farm roads next to the flooded fields in Burns and Diamond to be great fun and far more productive than the Refuge. The variegated greens and yellows make exceptional backdrops and it is fairly easy to find Yellow-Headed Blackbird, Western Meadowlark and the odd Wilson's Snipe. In Burns, Hotchkiss Lane, Green House Lane and the first two miles of Highway 205 from the junction of Highway 78 were very productive, especially early in the morning. There is also Yellow-Bellied Marmot at the Lava Pitt Crater. We recommend you try this latter location as it provides some amazing backdrops. If you do decide to visit, the Narrows RV Park provides full service accommodation at the Refuge entrance. In early June, a side trip that may prove worthwhile is to drive the Catlow Valley to Fields and visit the "Oasis," a copse of Willows just off the road in the center of town where Great Horned Owl usually nest. Slightly farther south on the north western Nevada border is the Sheldon National Wildlife Refuge. Although this is primarily a haven for Pronghorn Antelope, there are small herds of Feral Burro's that can generally be found close to the road as you travel west from Denio Junction. If you decide to travel this route, the Junipers RV Resort just west of Lakeview is a great place to stop for a day or two as it is essentially a working ranch with plenty of wildlife. It was here that we encountered Horned Lark for the first time and found them t be a definite photography challenge! If you drive the tour route, it's also a great place to gather perch material as the dead Juniper branches are covered with a superb chartreuse lichen that make excellent props.
You can see how we fared at this location by reviewing Gallery 40.
We've had waterfalls on our bucket list for some time. The problem was identifying an area that housed significant and easily accessible locations where the weather and surroundings were conducive to producing compelling images, especially of "silky" water flow using longer shutter speeds. We opted for locations in Oregon, in particular the Columbia River Gorge National Scenic Area which houses better than 75 waterfalls and fast flowing creeks in a literal rainforest where ferns and moss supplement the vibrant greens from trees as they leaf out in early spring. The locations here were for the most part readily accessible either roadside or on well-maintained trails. We found the hiking exceptional with the proviso that many of the best falls were well above road level where the switch backs and rocky terrain were literal "lung burners" for photographers our age. It goes without saying that we required frequent rest stops given the equipment we had to tote up the slopes. Although the assent on these hikes was steep, it was well worth the effort.
As we progressed past the Columbia Gorge area the locations we visited were basically "drive-ups" and allowed us the opportunity to see much of Oregon first hand. Our planning research relied heavily on a survey of northwest waterfall locations in Washington, Oregon and Idaho. It's a great site (www.waterfallsnorthwest.com) that includes not only location descriptions but also directions and photography tips. We tended to favor iconic locations for our first visit and weren't deterred by having to hike to reach several remote sites on our list. We focused on Oregon as the waterfall concentration and photogenic locations helped to minimize driving distance and time. We selected roughly 25 locations that looked promising and targeted the middle of May when the weather was forecast to provide high overcast conditions. This we hoped would assist with producing exposures that incorporated longer shutter speeds, creating a "silky" mood to the water movement as some of the more sheltered locations. We were not disappointed but did encounter some moderate wind and driving rain that made photography at several locations problematic as the mist from the falls created an instant coating on our lens.
Was there any further downsides to our trip? Definitely don't visit the Columbia River Gorge on a weekend as it's a popular and well attended destination, especially Multnomah Falls where it takes some time to create different and compelling compositions. We found out-of-the-way locations such as Salt Creek Falls to be disappointing as the access road was still snowed in. Although we "bush wacked" our way to the viewing area, the mist and canyon depth made photography from the railings almost impossible. Abiqua Falls was also a real trial as the 4X4 road was much longer than expected and in poor condition. The falls "trail" was an incredibly steep decent and we were forced to turn back at roughly the midpoint as the slick hillside provided precious little purchase. Nonetheless, we had an exciting and rewarding trip and would highly recommend Oregon if you want to experience waterfalls in compelling rainforest settings.