Alaska has no shortage of great locations. In fact, trying to develop a manageable subset of superb wildlife attractions is quite challenging. Although many can be reached easily by road and at little cost, others are relatively inaccessable and fairly expensive to visit. In the latter case, we decided to focus on the mainstays first - Brown Bear, Puffins and Polar Bear. As in the past, we opted for sites with known concentrations at specific times of the year and juggled our budget accordingly. As you can see from our Alaska By Road synopsis, Chugach State Park near Anchorage is a tremendous location for photographing Moose in September as the combination of low alpine forage and swamp provide ideal habitat for mating. As it happens, this is also a good time to view Brown Bear as they fatten up on spawning salmon.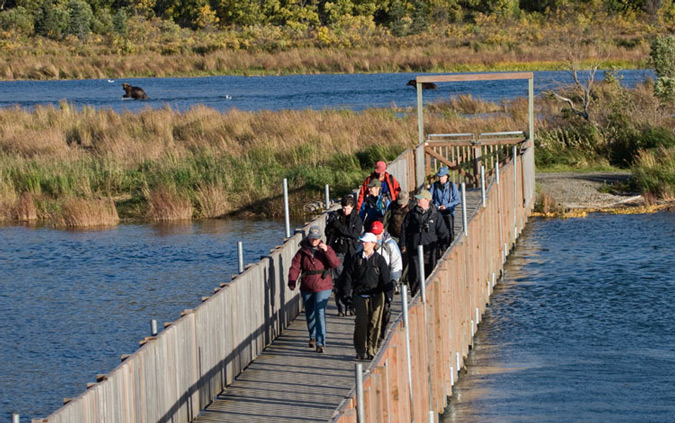 Pontoon Crossing, Brooks River Estuary
Brooks River is located in the heart of Katmai National Park. Access is by floatplane with lodge or camping accommondation provided through Katmailand. The National Park Service administer the area and visitors must attend a "bear conduct" seminar prior to entry. Photographers are drawn to the area primarily to visit Brooks Falls in the hopes of capturing that elusive shot of a Brown Bear catching a jumping salmon. This is usually best earlier in the season. We decided to pass and visit in the middle of September just prior to lodge closing when visitors decline and bear presence increases substantially in the river estuary. We certainly weren't disappointed as roughly 70 bears were crowded into an area less than three miles square. In fact, the Rangers deploy radio surveillance to ensure that visitors can traverse in relative safety. It's quite common to have bears enter the camp as the lodge and cabins are next to the lake shore and within a short walk of the shallow river estuary where they love to feed. There are viewing platforms at either the falls or across the temporary pontoon bridge pictured above. We did take advantage of eye level shots from the beach next to the lodge but always ensured a spotter was present. Our lens selection included 400mm and 500mm with a 1.4X converter. However, a 600mm with a 2.0X would have immensely improved our ability to get play shots that were just out of range for our existing equipment. Nonetheless, we had a great time with no limit of photography opportunities. Although the weather was temperate during our stay, it's best to plan for slightly colder temperatures and some precipitation. Our results can be seen in Gallery 18.
Spring in Nome hosts spectacular birding as migrants are attracted to habitat along the Seward Peninsula that encompasses ocean, wetlands and high alpine tundra strewn with dense willow thickets. Here you can expect to find warblers in boreal forest, shorebirds nesting in arctic tundra, migrants enjoying a shoreline rest and if you're lucky an odd Asian stray. In the immediate area surrounding the city you are sure to find Red-Throated Loon, Lapland Longspur, Arctic Tern, Long-Tailed Duck and, of course, Musk Ox. A particularly good morning location is the pond at East End Park or, later in the day, the tundra next to the Bering Air building. However, it's best to rent a vehicle and search the countryside along the three main roads that service the area. Nome is all about endless driving looking for signs of target species that are of interest. It's not uncommon to put in a couple of hundred miles a day, a tough slog where many encounters end early as birds are skittish and often uncooperative. Walking is moderately strenuous and many hours are spent in soggy tundra or marsh water clogged with mud, always accompanied by the ubiquitous and haunting sound of Wilson's Snipe. In summary, it can be a frustrating exercise looking for a compliant subject that requires a lot of patience if you attempt to work the area with no prior experience. On a more positive note, the results can be stunning, especially if you utilize the services of a knowledgeable guide.
Council Road through Safety Sound is a resting area for Common Eider, Harlequin Duck, Tundra Swan and Pacific Loon. This route is through an isthmus along the Bering Sea that skirts a wetland estuary that attracts the above species as well as many gulls and ravens. However, photography is almost impossible, even from a vehicle, as the birds are very wary and will flush if approached. Past Solomon the terrain changes and the willows are great fare for Blackpoll Warbler, Common Redpoll and, if their nesting habits persist, a Peregrine Falcon on the cliffs next to the old town site. Skookum Pass at roughly Milepost 53 is also a good bet to find Northern Wheatear on the lower canyon slope.
Kougarok Road leads north and can be good for Bluethroat near Salmon Lake. We found a compliant bird roadside near Milepost 35. The willows here are also home to Fox Sparrow, Arctic Warbler, American Pipit and American Tree Sparrow so spend time looking for alternatives if your target species isn't in a mood to cooperate.
The Teller Highway is probably the most productive drive, especially if you proceed to the outskirts of Woolley Lagoon. This road can cough up Long-Tailed Jaeger, AmericanGolden Plover, Pacific Golden Plover, Red Knot, Gray-Cheeked Thrush, Barred-Tailed Godwit and Black-Bellied Plover. Willows along the road are also a good bet for Orange-Crowned Warbler, Willow Ptarmigan and Wilson's Snipe. A good side road is Glacier Creek for Long-Tailed Jaeger, Hoary Redpoll and possibly Eastern Yellow Wagtail if you can get one to sit still for any length of time.
Photography in Nome requires waterproof waders and boots, a minimum 500mm lens with a short extender, layered clothing and a tripod that can take being immersed in shallow water. It can be a wet experience where the weather may also change dramatically throughout the day. Remember, you're slightly below the Arctic Circle and will experience a minimum of 20 plus hours of daylight. Weather in June adjacent to Nome can be foggy and cold in the morning, often windy, with a rapid temperature rise as the day progresses. It can also be miserably wet. Images from our Nome excursion can be viewed in Gallery 90.
In Barrow expect flat, wet tundra that forces you to physically live in waders if you hope to capture any pleasing images. The good news is that little driving is required as the entire area is serviced by roughly 20 miles of well kept dirt roads. Most photography requires only moderate walking, although some over ponds with icy bottoms that require some dexterity to ford if you don't want to end up on your butt. Three species of Eider Duck (King, Spectacled and Steller's), Greater White-Fronted Goose, Snowy Owl (although hard to approach), Long-Tailed Duck and a cross section of shorebirds abound, especially Baird's, Pectoral and Semipalmated Sandpiper. It's also a haven for Dunlin, Red Phalarope, Red-Necked Phalarope and the odd Long-Billed Dowitcher. You'll need a permit to photograph as you will be on traditional native land. This is available through the Ukpeagvik Inupiat Corporation and application details can be found online. Barrow is above the Arctic Circle and daylight in June is a 24 hour experience. Expect much the same weather conditions, clothing and lens requirements as in Nome with the exception that it will be much colder, often with a biting wind chill and dense fog.
For the most part we worked Cakeater and Imaqsaun Roads, the latter also known locally as the route to Freshwater Lake. There are several unmarked but important side roads along the way of which "New Dump" should be routinely checked out. Unfortunately Gas Well Road was closed but it is a must route if you intend to visit. By "worked" we mean looking for subjects on the breeding ponds and tundra mounds within roughly a quarter mile of roadside. The objective is to scope the area, find a target species of interest and begin a slow approach, positioning as always for light and backdrop. Many of these forays end early as the birds are wary and finding a compliant subject requires patience. If nothing appears by scanning the tundra roadside, you can always hike out. I recommend you don't try this without a knowledgeable guide as the tundra is dotted with ponds that require some dexterity to traverse and can be positively treacherous if you encounter a hidden, icy bottom. Moreover, it's more than likely that you will stumble on a concealed nest. It's simply not worth the trek to endanger either yourself or the migrants. Alternatively, there are locations within the city that offer excellent opportunities. Try the school ground for Snow Bunting and Baird's Sandpiper, especially if pink Wooly Lousewart or yellow Hogwort is in bloom. Images from our Barrow trip can be viewed in Gallery 91.
As birders and photographers "flock" to Nome and Barrow in June, it is recommended that accommodations be arranged as much as a year in advance. There is a definite message we wish to convey from our trip to this area. Our advice is not to tackle either location without an experienced guide if your goal is a set of specific target species and time is a limiting factor. Moreover, it's an unforgiving environment if you decide to set out on your own. There are no communications and issues encountered in the field are not easily resolved. Perhaps the best tour for both areas is offered by Matthew Studebaker. His knowledge and tenacity certainly paid off on our trip as he knew the most likely locations for the target species we were looking for. He was prepared for the problems we might encounter and certainly provided advise and ensured we were well clothed beforehand. His tour also includes accommodation and local transportation, which significantly simplifies travel arrangements.
This is one of four islands known as the Pribilofs located roughly 250 miles north of the Aleutian Chain. In early August, the aging volcanic cliffs house nesting Horned Puffin, Tufted Puffin, Common Murre, Thick-Billed Murre and various species of Aucklet. The shoreline is also home to many large Northern Fur Seal rookeries. There is also no shortage of Arctic Blue Fox, a species endemic to this Island. Inland, lush green vegetation masks hidden rocks making any form of wandering about fairly hazzardous in some areas. Although the island is usually shrouded in either cloud cover or a misty fog that creates some definite low light challenges, wind does tend to clear away any adverse conditions, sometimes fairly quickly. Be warned though, these islands see very little sunshine and air travel is quite unpredictable. As rain and low cloud cover are a distinct possibility, you may find yourself unable to photograph during some part of your trip. Although you can easily get stranded either coming or going, it's definitely worth the risk as bird concentration and species variety is prolific.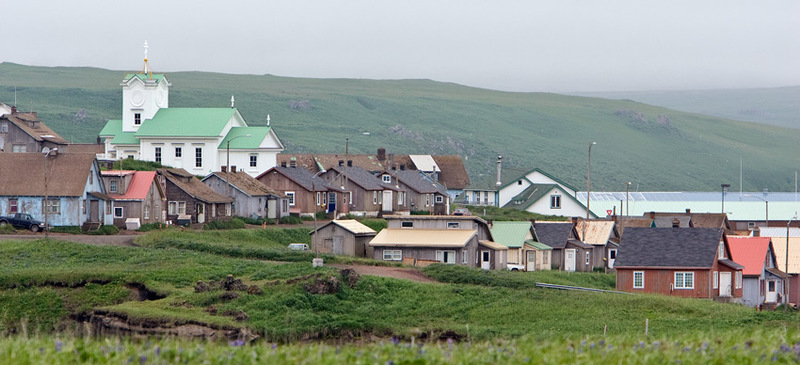 It's best to book through St. Paul Island Tours as you will need a guide and transportation. Although the King Eider Hotel appears rundown, it's clean, comfortable and has a good restaurant. Your guide will definitely know where the best opportunities are to find the target species you wish to focus on. For nesting birds, we had our best days at the Zapadni Point Cliffs and Breakwater. This can be a bit of a climb and the photography locations somewhat precipitous. The path is well marked, however, and the birds are constantly on the move creating great opportunities especially if you can manage to isolate a neutral backdrop. The cliffs next to the Reef Rookery were also very productive. Gray-Crowned Rosy-Finch are fairly common, especially next to the hotel. Seals are slightly more problematic to isolate as access to the rookeries other than from the road or viewing platforms is restricted. Again, our guides were cooperative in manouvering the van to assist with our photography needs. For best results, a 500mm or 600mm long lens is essential with a selection of converters and a Better Beamer flash extender. Wet weather gear is essential, including a protective camera covering. We recommend high rubber boots as shorebirds are plentiful, especially Rock Sandpiper. Our results are included in Gallery 29. Images from a recent trip that included northern British Columbia and the Yukon can be found in Gallery 30.
Kaktovik is an Inupiat village located on Barter Island just off the northern tip of the Arctic National Wildlife Refuge. From roughly early September to late October Polar Bears begin to congregate along the edge of the Beaufort Sea awaiting freezeup as they progress to their winter hunting grounds. Kaktovik is a prime staging area as the remains of the annual village whale kill provide an easy food source. It is a great location for close, eye level shots, with the proviso that snow and wind can create very cold and low light conditions. You need to come prepared with foot and outer wear that can withstand below zero temperatures. Moreover, you should engage a guide or at the very least be accompanied by another photographer as it is extremely important to keep watch for wandering bears at all times. We can't overstate how dangerous these animals are. If you are alone, it is easy to inadvertently lose sight of other activity as you concentrate on the subject at hand.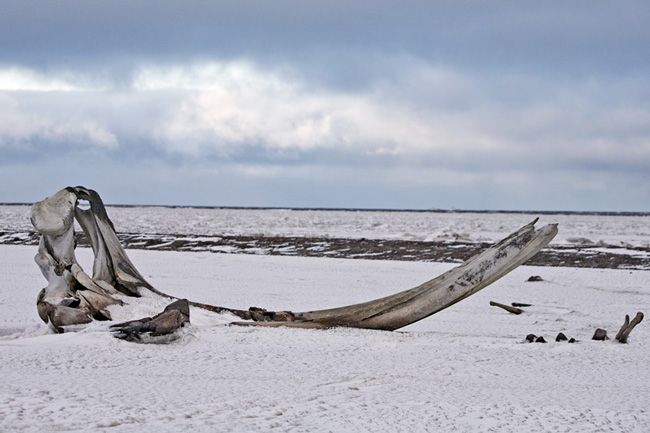 Bow Whale Bones Near Kaktovik
If you plan to visit this location, an enjoyable excursion is to drive to Deadhorse from Fairbanks, staying overnight at either Coldfoot or Wiseman. Along the way you can expect to see and hopefully photograph Moose, Muskox, Caribou, Fox and an assortment of other arctic animals and bird life preparing for winter. It's also an opportunity to see the aurora. From Deadhorse, Frontier Flying Service have daily flights (except Sunday) to Kaktovik. The Waldo Arms can provide accommodation, guides and transportation. Obviously, it's best to book all accommodation and travel prior to departing.
We did not visit this location together. I arrived in late October, guided myself and enjoyed great eye level photography albiet at times in low light facing severely gusting snow. During these periods, it was difficult to keep the lens clear and the heavier snow often impeded the autofocus feature.
The majority of the photographs were taken with a 100-400mm lens. If you have either a 70-200mm or a 500mm with a 1.4 extender, I would recommend you take both. I found mornings to be the best but plan to spend the day as the bears can show up anytime. As pointed out, it's best not to go alone. Robert Thompson is a local guide that not only accommodates bear viewing but also offers a host of services that encompass other venues such as rafting in the Refuge. Alternatively, Alaska Photo Tours offers a package targeting the southern Brooks Range, northern lights and, of course, Polar Bear viewing.
You can see how I fared in Gallery 33.
THE KAKTOVIK SYNOPSIS SIMPLY DESCRIBES MY EXPERIENCE AT THIS LOCATION. I AM IN NO WAY RECOMMENDING YOU APPROACH THESE ANIMALS AS THEY ARE IN THE WILD AND SUBJECT TO UNPREDICTABILITY. PLEASE CONTACT A LOCAL GUIDE FOR INFORMATION ON BEHAVIOR AND TERRAIN IN THIS AREA.