Tucked away in the south west corner of South Dakota is a gem of an area for not only birds and wildlife but also natural landscapes. The terrain, collectively known as the black hills and badlands, houses six national parks that blend prairie grasslands, pine clad mountains and prehistoric rock formations with eye-popping canyons, buttes, pinnacles and spines. The former is a mixed grass prairie or intermediate ecosystem that supports Plains Bison, Pronghorn, Sharp-Tailed Grouse, Wild Turkey, Western Meadowlark, Black-Tailed Prairie Dog, White-Tailed and Mule Deer with the odd Coyote, Black-Tailed Jackrabbit, Eastern Cottontail and Western Bluebird thrown into the mix. Buffalo Gap National Grasslands cuts a swath through this area with the Black Hills National Forest and Badlands National Park forming rough borders to the west and east respectively.
The centerpiece of this area is Custer State Park and the adjacent Wind Cave National Park. We tackled this area by first driving the Wildlife Loop and side roads of Custer and Wind Cave. We then toured the major scenic byways to get a further appreciation of the local landmarks, bird and wildlife concentration. The experience is breathtaking as you encounter dense Ponderosa pines, mountain lakes and prairie grasslands that seamlessly blend into steep walled canyons and sharp ridges that have been ruthlessly savaged by wind and water. The badlands is a picturesque and bizarre mixture of spines, pinnacles, massive buttes and deep gorges where the erosion reveals a collage of color from purple/yellow (shale) to tan/grey (sand and gravel), red/orange (iron oxide) and white (volcanic ash). This initial look took several days after which we decided that the best locations to concentrate our efforts were the west and south sides of Custer State Park, virtually all of Wind Cave, the Red Shirt Table east of Hermosa and the north unit of Badlands from Cedar Pass to the Pinnacles Overlook. We also recommend the scenic loop through the Norbeck Wildlife Preserve which encompasses the Mount Rushmore National Memorial, the Iron Mountain rock tunnels, Needles spires and Sylvan Lake. This latter location provides trail access to both Mount Harney and the Cathedral Spires, walks well worth taking if you have the time as the landscape provides awesome photography opportunities. If you camp at Custer and the weather conditions are right, a good location for morning or evening mist and reflections is Stockade Lake. Just five minutes away is an active Beaver pond at Bismark Lake. If you stop to enjoy a picnic lunch at Blue Bell, it's likely you will encounter a Thirteen-Stripped Ground Squirrel as they are active if the weather is hot. Lastly, there is a wild horse sanctuary south of Hot Springs that provides an opportunity to view and photograph Mustangs. We didn't take advantage of this as our plan was to visit the Teddy Roosevelt National Park in North Dakota on the way home as this is a known location for great Mustang photography. The trip north also provides the opportunity to visit Slim Buttes east of Buffalo for another opportunity to capture images of the alluring badlands topology.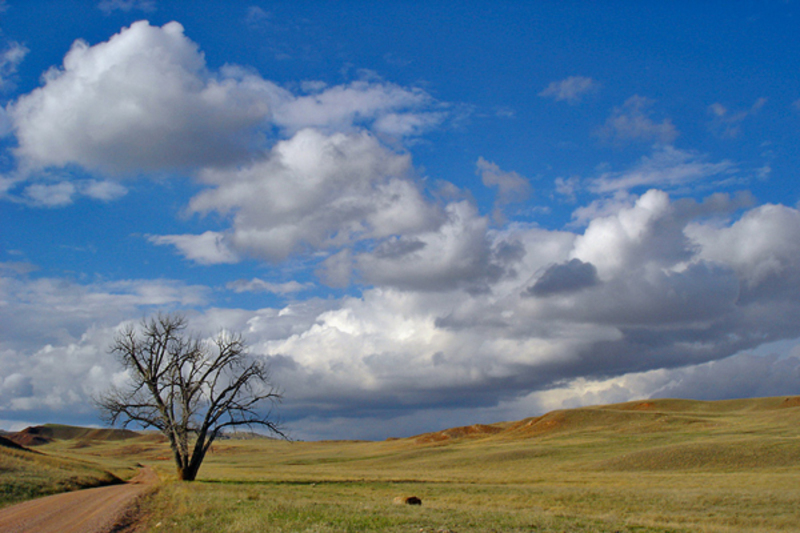 We spent ten enjoyable days trying to ferret out the birds, wildlife and natural landscapes that pervade this area. We arrived in the middle of April, targeting Sharp-Tailed Grouse (early April to the middle of May is the only time of year the leks are active), Wild Turkey and hopefully a new born Plains Bison calf. It was a bit early for Pronghorn fawns and Wild Turkey poults, which typically arrive in early June and late July respectively. We were also aware that the Bison are beginning to shed their winter coats and, with the inevitable jumble of grass and dirt, don't make for very compelling images unless you are able to isolate a clean animal. The area is also a bit bleak as the trees haven't leafed out as yet. However, given the time we had available our shopping list was full, especially with the natural landscapes that constantly attracted our attention. Fortunately the weather cooperated, providing a mixture of soft morning light and billowing afternoon cloud. The Custer Wildlife Loop and adjacent Wind Cave is also the best place we have found to photograph Pronghorn as they are prevalent and accustomed to human traffic. If you are looking for more action oriented photography, you may want to time your visit for the annual Bison roundup in September.
We began before sunrise at a Sharp-Tailed Grouse lek in Custer State Park near the Wildlife Loop and Lame Johnny Road. This was a totally different experience than what we had encountered in Wyoming photographing breeding Greater-Sage Grouse. The Sharp-Tailed Grouse prefer leks on the top of hills where the males begin the mating ritual by posturing and fighting from a bended, spread wing position. We arrived an hour before sun up and found the lek crowded and the males already displaying vigorously. This lasted roughly ninety minutes and was often interrupted by a dread response that cleared the lek of birds for a short time. We're not sure why this occurred but chalked it up to a passing raptor. We used a blind and found a 400mm lens more than sufficient to capture the behavior and portrait images we were targeting. It's strictly a low light situation and demands a high ISO to capture good images (our 40D and Mark III Canon bodies were set at 1600 and 3200 respectively). As the morning progressed, we generally looked for Plains Bison and Pronghorn in locations that provided decent backdrops. We found both prevalent and easy to approach in Custer and Wind Cave. Beware though, female Bison with a calf are very protective and will not tolerate your presence. If other females are present, whether with young or not, they will also exhibit warnings and more than likely become aggressive. As we've pointed out before, photographing new born can be hazardous and should be done with a long lens from a distance. As the afternoon heats up, we liked to switch our venue and concentrate on the Black-Tailed Prairie Dog. There are many "towns" in the area but the best is road side in Wind Cave. Another caution here, this rodent can carry the plague. Although the known locations in South Dakota are marked with warning signs, beware of wandering around their colonies. We found the best opportunities were from the cab of our truck using a 600mm lens, sometimes with a 1.4X extender. Wild Turkeys are everywhere but capturing an image is extremely difficult. Again, we used a blind in a known location that was baited with a little corn meal. The hens are relatively drab and don't make great fare but a strutting Jake or Tom in full fan is something to behold. It's an image that still eludes us as those we managed to capture were inculcated with habitat.
If you have limited time for landscape photography, we recommend you concentrate on Highway 240 west of Cedar Pass. The Ben Reifel Visitors Center is a good morning location. Progressing slowly west, we found all the overlooks spectacular with Norbec Pass, Bigfoot Pass, Panorama Point, Yellow Mounds and Pinnacles to be our favorite. Watch for Bighorn Sheep road side at the latter location as they are part of a restoration program underway in the Sage Creek Wilderness Area. Here they make great images if you are able to isolate a lone ram or ewe on a hill top with a badlands backdrop. Black-Footed Ferret and Swift Fox are also being reintroduced to the area so watch for signs.
We were totally overwhelmed by our visit to this area and felt the potential for year round photography, especially spring and winter, was awesome. With the notable exception of geysers and active volcanic terrain, we feel this area easily matches the photographic magic of Yellowstone National Park and is high on our list for a second visit. We felt nothing short of envy for the locals who live and enjoy this area daily. To view our results, see Gallery 57 for birds and wildlife and scan Gallery 60 for natural landscapes.