Desert photography poses some definite challenges. Intense light, sudden wind and a parched habitat full of spines and prickles can make positioning a difficult and at times a hazzardous process. Notwithstanding, Arizona is a great area for locations that provide decent public access to varying desert habitat that house an abundance of birds, mammals and reptiles. Moreover, for a reasonable price, there are private locations where you can enjoy a more controlled photography experience. We try and combine both when researching and planning a trip as a means to broaden the opportunities to produce satisfying results. This is especially true of this area since light and backdrops can be problematic. Cactus spines, for example, are highly reflective and can be a definite hazzard when positioning. Some species, such as Gambel's Quail, move continuously and are extremely wary. Lizards, on the other hand, display a wide range of colors from drab to spectacular and either sit like slugs or bolt for the brush at the slightest movement. This diversity is what makes desert wildlife photography such fun.
Phoenix is a good area if you want standard desert fare mixed with a little excitement. By this we mean that the birds are plentiful, quite compliant but fairly common. House Finch, Cactus Wren, Mourning Dove and Curve-Billed Thrasher predominate. There is, however, the opportunity to get down on the desert floor and capture quite an assortment of reptiles, especially lizards that can be very colorful and immensely photogenic.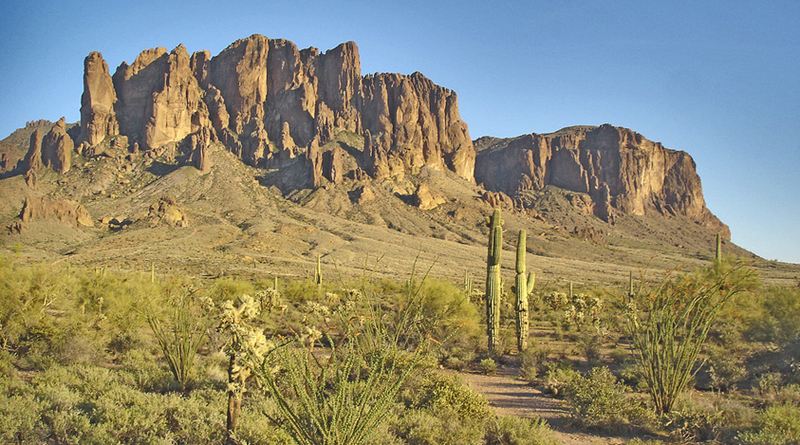 A good first stop is the Lost Dutchman State Park, north of Apache Junction. This is a morning site in the lee of the magnificent Superstition Mountains pictured above. The best action is at the water drip and feeding box next to the Ranger Station. Birds "stage" on the cholla, producing excellent perch opportunities before jumping to the feed station. Another good morning location, pictured below, is the Saguro "mound" at the entrance to the Riparian Preserve at The Water Ranch in Gilbert. Although nesting Gila Woodpecker is the primary attraction here, you should definitely try the edges of the water ponds and pathway scrub in the late afternoon and evening. Both the above locations require a longer lens with an extender (500mm with 1.4X) is a good choice to ensure success.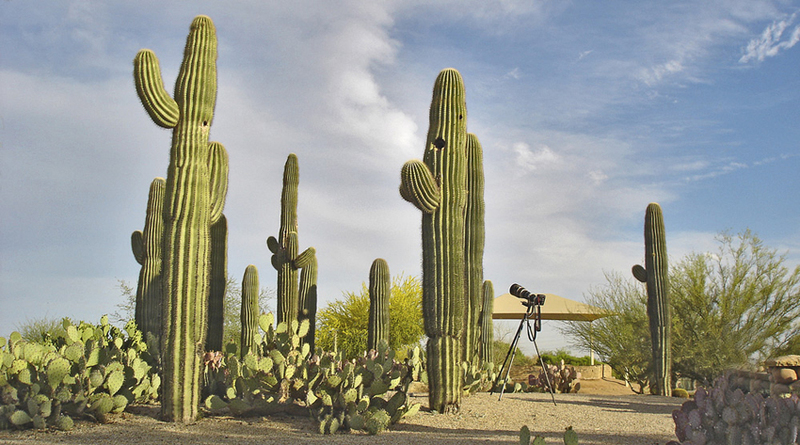 A good day trip is the Boyce Thompson Arboretum State Park. This is roughly an hour east of the city near Superior. Although our quest here was really lizards, we did spend some time at Ayer Lake and the Demonstration Garden searching for avian opportunities. In our opinion, these are both "slow" sites for birds as we had to work hard to isolate their hangouts and position for light and background as we tried to predict their next move. Lizards, on the other hand, abound, especially next to the Herb and Cactus Gardens. We tended to concentrate on the more colourful species and avoid the Whiptail and Tree varieties as they are predominantly dark and frequent similar backdrops that produce extremely bland and uninteresting photographs. You will find Spiny, Collared, Earless and Side-Bloched to be much better subjects, especially in breeding season. Positioning for light is relatively easy if you approach cautiously as they warm themselves in the sun. We found a 70-200mm or 100-400mm lens worked just fine but used our Canon 5D to create a larger file size which we felt would produce better detail when post-processing. If you find any of the above a bit negative, we can assure you the area is lots of fun, requiring a bit of work in places to generate good results.
If you want a second lizard experience, the Desert Botanical Gardens is a good choice. Not only is the Spiny Lizard prevalent but the various habitats attract the Round-Tailed Ground Squirrel in interesting backdrops. Although the walkways are well laid out and easy to traverse, we found it difficult to spend time with a subject as the volume of human traffic tended to create enough of a distraction to make photography difficult at the best of times. It's definitely best to go on a weekday.
We did try the ASU Research Park in Tempe as it was recommended as a haven for compliant ducks and herons. We found only domestic geece and feral pigeons. A quick driveby may prove more worthwhile if you intend to visit the area.
The Tucson area is similar to Phoenix in that the opportunities are strictly in habitat. There are several good locations where the wildlife are accustomed to human activity including Catalina State Park, the Sabino Canyon Recreation Area, Sweetwater Wetlands and the Saguro (West) National Park. Although the usual desert birds were in abundance, we found the activity slow. We attribute this somewhat to the onset of hotter weather but, unlike Phoenix, we encountered no feeding stations or water drips in the dryer areas. A good day trip is the Arizona Sonoran Desert Museum. This is really a zoo for desert wildlife and is a great location if you want to photograph captives.
Both Phoenix and Tucson are primarily in habitat experiences. You can see how we fared in Gallery 23.
There is a facinating area to the south of Tucson near Green Valley. The Santa Rita mountains are a major resting place for migrating species and provide a respite from the heat for indigenous desert dwellers. Here you have ready access to Madera Canyon. A word of caution though, the trails that honeycomb this area are predominantly used for hiking and birding. Although the walks are a must, the habitat is not really conducive to wildlife photography. In the same vein, the many feeders at the Santa Rita Lodge are really placed too far from the viewing area to produce any realistic photographic opportunities. If this also sounds negative, there is another route to take full advantage of the spectacular opportunities this area provides.
The first is an excellent photo tour offered by Joe and Mary Ann MacDonald's Wildlife Photography. They provide a four day applied experience to learn and understand the use of high speed flash to photograph Hummingbirds. If you think this is highly technical, the advent of wireless technology now allows amateurs to create simple master/slave flash setups that were once extremely complex and the sole domain of the photography technocrat. As participants, we also had exclusive access to several natural light setups baited with various seeds, meal worms and suet. As the area hosts roughly 240 species annually, these provided many excellent opportunities to capture perching birds and squirrels. You can view our results in Gallery 24.
We should point out that the MacDonald's offer a wide range of courses and tours targeted to all levels. Learning experiences such as these provide amateurs an effective way to advance their skills or participate in what would otherwise be difficult trips to organise personally. You can get further information from their Hoot Hollow Web site.
A second alternative, geared more to "doing-your-own-thing," is the Pond At Elephant Head. This is a private facility comparable to the Land And Lens locations available in Texas. The owner supplies moveable blinds, perches, clamps and bait. There are also below ground fixed structures if you want to get eye level shots. We have pictured one of our setups below.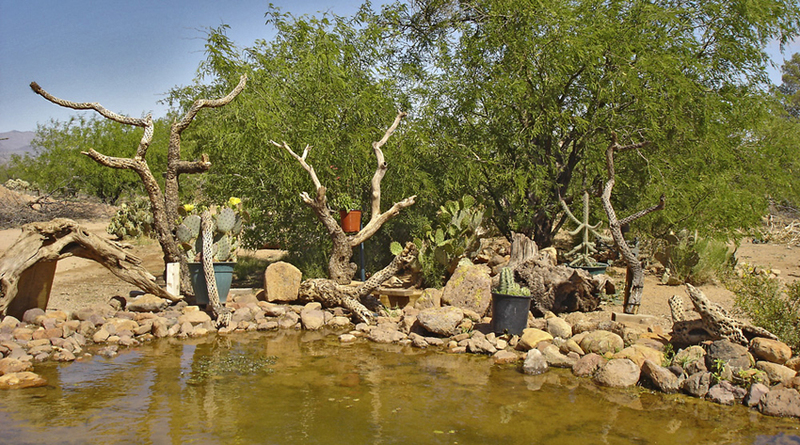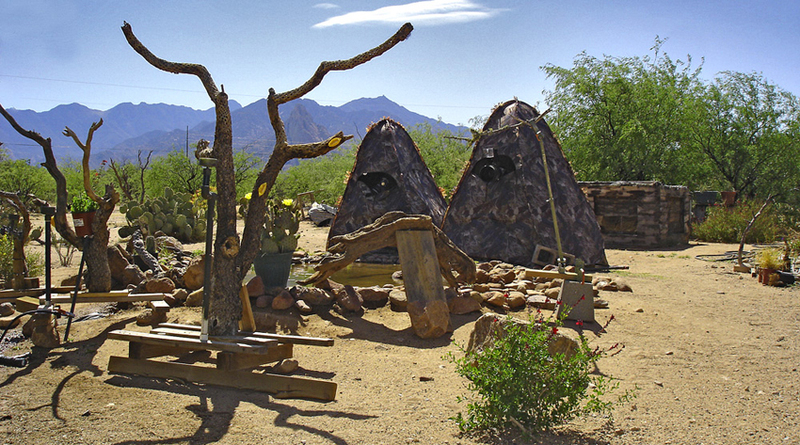 Although access is restricted to a single photographer in either full or half day sessions, the owner will allow a guest or second photographer if you agree to work together. This is a morning and afternoon site requiring a longer lens (we did, however, find a 400mm best for photographing the larger birds). Here you will have the opportunity to concentrate on the hard to get species such as Gambel's Quail and Pyrrhuloxia in great settings. If you don't take the Hummingbird tour, the owner has an excellent secondary site in Madera Canyon aptly named The Drip for the water pipe that feeds a small elevated pond. From our perspective, The Pond And Drip offer spectacular opportunities to advance your controlled perch skills. We captured 28 avian species alone in our brief visit to both sites. You can view our results in Gallery 25.
If you camp, there are fee facilities nearby in the Coronado National Forest at Bog Springs. We stayed at The Pond location as the owner provides a full RV hookup (there is a small over night sleeping and kitchen accommodation available also). A description of the facilities and rates can be found at PhotoTrap.
A productive way to round out a trip to Arizona is to visit southeastern California. Not more than a day away and slightly to the northwest lies the Salton Sea. Although there are few birds at the southern end in early May, there are Burrowing Owl in abundance on many of the side roads near Niland. They have just returned from wintering in Mexico. We found them extremely approachable but produced our best results with a long lens (500mm and 1.4X extender) and bean bag from the cab of our truck. Their individual appearance and expressive manner is fun to photograph. Our results can be seen in Gallery 26.