Although the Lower Mainland of Vancouver is an excellent area for birding, in our opinion many of the best locations present challenges for the wildlife photographer. Besides having to drive long distances, usually in rush hour traffic, the prime barrier to achieving consistently pleasing results is brutal habitat. As this area is essentially a rain forest, the sanctuaries and respites put aside for wildlife tend to support dense foliage that grow at a rate that is difficult to keep under control. Moreover, the winter months are often shrouded in low light and rain. Not surprisingly, the pathways can also be dominated by bicycle traffic or dogs and their owners out for some exercise. Notwithstanding, as this is a crucial resting area on the Pacific Flyway, with a little work, a wide variety of species can be targeted on a seasonal basis. We will continually update this synopsis as we visit and report on the opportunities available in this area. You will find results in Galleries 14,34,35,38,44,45,46,48 and 50 respectively.
Perhaps the best example of what you will have to overcome is the annual arrival of Bald Eagles. Beginning in late November and continuing until the middle of January, hundreds of birds congregate in three specific areas to feed on the remains of spawning salmon. Photography, however, can be exceedingly "hit-or-miss" as Eagles are usually "skittish" and tend to roost high in trees, almost always partially concealed by obstructing habitat. As a result, we tend to move quickly and continuously through an area trying to mitigate distance and habitat factors. We have found a long lens to be best, usually 500mm or greater with a 2X converter.
There are three good locations. Our favourite is the Squamish watershed in Brackendale, either on the minicipal dike walkway at Dryden Creek or slightly farther down Government Road along the river access trail (turn left on Judd Road and continue to the parking lot left off Brennan Road). As positioning for distance and light at these locations is often problematic, we also like the Mamquam River dike just off Highway 99 at Centennial Way near the Brennan Channel. After a heavy snowfall (which covers the salmon carcasses along the river), try the Fish Hatchery in Paradise Valley where the water doesn't freeze and salmon remains are readily available. If this fails, try the Squamish Valley up to the powerhouse.
A second spot is in the Harrison-Chehalis watershed along the river next to Highway 7 between lower Deroche and upper Harrison Mills. There are several locations along the Morris Valley Road including the end of the river trail at the Fish Habitat Development Project pulloff.
Lastly, the farm roads skirting the Fraser River delta in Ladner and Tsawwassen can often be productive. We tend to augment days at some of the sites listed below with a slow drive through this area.
Although the Reifel Migratory Bird Sanctuary is a veritable year round haven for a broad avian population, dense habitat makes positioning for backgrop or obstructions a difficult proposition. To overcome this and be more productive, our suggestion is to bring some perch material for positioning next to the many feeders. We use an old tripod with a clamp screwed to the moveable centerpiece. Black oils will attract Black-Capped Chickadee's in no time. These are also usually good spots for Oregon Junco, Spotted Towhee and Fox Sparrow. You are almost always guaranteed Lesser Sandhill Crane as there are very compliant nesting pairs that frequent the sanctuary. Northern Harrier are prevalent but may require a few visits and some patience to catch one in the air at close range. If you take some feed or purchase a small bag when you enter, this is also a good location to practise flight shots as Mallards are simply everywhere. A drive around Westham Island will usually produce Bald Eagle and Ring-Necked Pheasant. Brunswick Point at the end of River Road West can be quite good for passerines and shorebirds during the spring and fall migrations. If you've got time, Ladner Harbour Park off River Road East is worth a look.
The Serpentine Wildlife Area borders Surrey off the King George Highway just past the bridge at 44th. Better described as a fen, the roughly 4 Kilometer walkway skirts canals and waterways primarily designed as duck habitat. If you take your time, it's generally a hive of activity, especially for Passerines.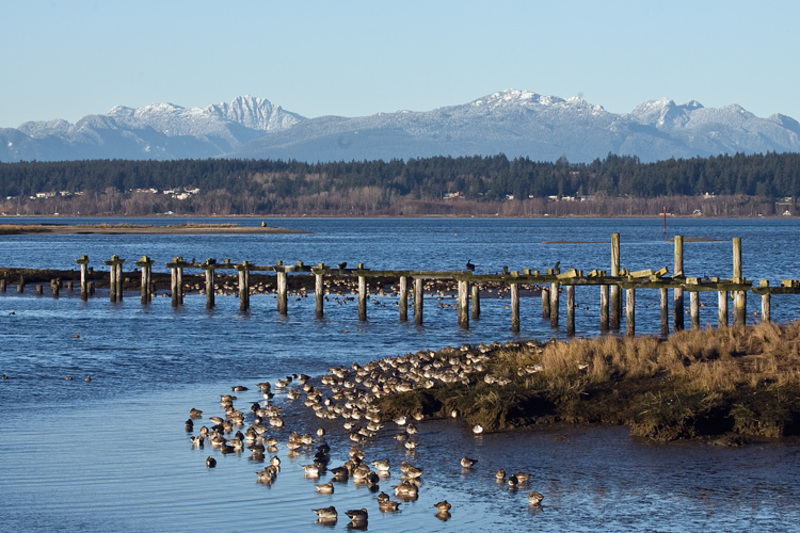 If you continue a short distance down the highway and take the White Rock exit, Blackie Spit Park provides a great experience combining shore and perch opportunities (to reach the parking lot, turn right on Crescent Road, Sullivan Street and McBride Avenue respectively). It's best to go on an incoming tide as this pushes the birds from Mud Bay ashore. The canals on both sides of the Farm Slough dike can be very productive, especially the small bay next to the Pumphouse Station. We have always found a resident Belted Kingfisher to be active along the walkway as the canals are shallow and make a great feeding area. If you go left, there is a trail that follows the shoreline and that has many concealed access points where you can take advantage of an incoming tide.
If you continue on to the White Rock waterfront, the walkway, pier and shoreline are often active, especially if you want to practise flight shots of the ever present gull population.
Boundary Bay Regional Park is an excellent area for wildlife photography, especially shorebirds and raptors. A good place to start is along the East Delta Dike Trail, accessing from either the 64th or 72nd exits off the Ladner Trunk Road (Highway 10) or the 96th and 104th exits off Hornby Drive. This area is a haven for Northern Harrier and Short-Eared Owl, especially in the fields and shoreline near the golf course and electrical compound at the 72nd Street entrance. Photography on the mud flats can be great fun but you will need a good pair of high-top rubber boots and be prepared to get a bit dirty. A good place for shorebirds is Centennial Beach in Tsawwassen (access off 56th at either 12th or 16th, or by following Boundary Bay Road to the Park entrance). Lastly, the intertidal areas and farm roads near Roberts Bank and the Tsawwassen Ferry Terminal can be quite productive.
The Delta dyke is one of the coastal habitats chosen roughly every six years by Snowy Owls as they fly south searching for an area to over-winter. This "irruption" results from a severe drop in the number of lemmings that form the bulk of the owl's food source in their normal tundra habitat. Although it is a natural phenomena and part of the lemming's life cycle, the owls face starvation and are forced to look elsewhere to survive. Why they choose the marshy foreshore of the Delta dyke is beyond us as the constant rainfall and wind leave them looking like wet "mutts" even at the best of times. Nonetheless, their arrival is an "event," causing an influx of birders, photographers and the general public who don't want to miss getting a glimpse of these rare birds. The birding fraternity get into the fray early, mounting what is essentially a campaign accusing photographers of "cramping," a term that simply means getting too close and engaging in what they view as a form of stress or harassment that endangers the energy level of a bird if forced to fly to a safer location. This argument is almost laughable as the birds have just flown a couple of thousand kilometers. What's another hundred feet if it happens to feel something is intruding into its space? This accusation is also from the group that "bands" songbirds by entangling them in nets, an annual activity that they undertake with a fair amount of determination. Talk about stress! Nonetheless, they sanctimoniously lobby local government and soon signs are posted telling everyone to keep a respectful distance, the usual knee jerk reaction based on an unbalanced argument from the group that can yell the loudest. The fact of the matter is the birds are tired after a long journey and must acclimatize to a new hunting environment. Unfortunately, they have chosen an area that is extensively used by the public for walking, cycling, riding horses and exercising dogs. Moreover, it's duck hunting season! This brings hunters, gunshots and more dogs to the foreshore, pushing the owls ever closer to the dyke roadway. Given the wet weather, wind and extensive human traffic, it's an unusually difficult environment in which to settle. The real question is just how photogenic are these birds? From a photography perspective, the dyke road gets harsh back light in the morning and severe shadows from side light as the day progresses. As such, photographers looking for front light and a pleasing perch are forced to wander throughout the marsh trying to position accordingly. As there are only a handful of decent perches, this is a difficult process. Moreover, they have to choose a relatively dry day or the birds are soaking wet (feathers on the face, feet, tail and upper coverts are drenched and separated). As there is usually no snow, the birds almost always have a visible layer of dirt on their feathers as the marsh is a quagmire and a tough place to catch dinner. In other words, getting any kind of pleasing image is almost impossible. We stuck to the dyke road on a wet day and found the entire experience to be a waste of time and effort. You can view the few images we did take in Gallery 72. There are certainly better locations to photograph these birds in Canada, either in the suburbs of Montreal and Ottawa during the winter or the tundra environs of Fort Simpson or Baker Lake in the late spring and summer. The Delta dyke is definitely off our list!
Fall and winter seem best to us in this area. A good place for ducks is Ambleside Park in West Vancouver (Marine Drive at 13th). Here you can almost always count on Common Goldeneye and Lesser Scaup. It's a great place to practise flight shots as Mallards and American Widgeons can be easily enticed to fly over the pond if you throw a little chicken scratch in the air. The ocean side is a little tougher as the sun is not favourably positioned and there are quite a few off lead dogs enjoying their walk. However, you can generally find Surf Scoters and a the mouth of the Capilano River. In May, a nesting Green Heron is usually present and images of young are easy to capture as the summer progresses. A little farther down the highway is Horseshoe Bay where you are likely to encounter Common Merganser and Barrow's Goldeneye. This is a morning location with great flat light and is best at low to moderate tide. Maplewood Conservation Area on the Dollarton Highway in North Vancouver have walking trails that traverse a tidal marsh and adjacent uplands. It's a good area for Pine Siskin and a rare opportunity to photograph Red Crossbill in the winter months. Your best bet is next to the bridge on the inlet side as both species often forage on the shore and sit in the low branches and driftwood.
A good place for Great Blue Heron and Canvasback is Lost Lagoon near Stanley Park. On a calm, sunny day in spring, it can be quite productive for water reflections especially in the side ponds where the America Widgeon hang out. If you would like to photograph Raccoon's, there is usually a small troop feeding or "mooching" in the woods or along the water front. Absolutely the best place to photograph Red-Winged Blackbird is Jericho Beach Park near Spanish Banks. The ponds are filled with bull rush and it is relatively easy to position for good background. In early Spring, Queen Elizabeth Park can be quite productive if you enjoy walking through cultured gardens that are just beginning to blossom. These make great backdrops and with luck you should encounter arriving migrants that are busy feeding and building nests. It's also the best location in Vancouver for Cooper's Hawk.
Although Burnaby Lake Regional Park (enter at Piper Avenue off Winston) is probably the best place for Wood Ducks in the Lower Mainland, with a little patience it is a great place for flight shots as ducks and geese are constantly on the move near the boardwalk area. Red-Winged Blackbirds are common here and the marsh habitat makes great backdrops if you position accordingly. We have never had much luck walking the trails but constantly meet more persistent photographers who like this area for Red-Breasted Sapsuckers and Tree Frogs. The shore trails around Deer Lake Park (Gilpin exit off Canada Way) can always be counted on to cough up a Great Blue Heron or Painted Turtle.
Although our home overlooks Colony Farm Regional Park, we don't frequent this area as much as there seems to be less wildlife than in years past. Certainly raptors and coyotes are not as abundant. Opportunities near the walkways are difficult as most of the fields are overgrown and the habitat quite dense. Notwithstanding, it is still a good location seasonally for Eastern Kingbird and Cedar Waxwings. As there is a Great Blue Heron rookery adjacent to the Mary Hill Bypass on the Fraser River, they frequent the canals to feed and use the fence posts to roost, providing many excellent photo opportunities.
A location that can be great fun is LaFarge Lake in Coquitlam, especially in winter. Here, Mallard and American Widgeon can be easily enticed to fly for a handout of "scratch" if you are in a mood to practise flight shots. We often position for flat light, toss a handfull high in the air and await the usual hungry approach. With a little patience, you may also encounter Common Merganser that sit and fish the shallows. They can also be found fishing the Oxbow Side Channel ponds between Lincoln and David. The trails here are great but too many dogs on the weekend can be a real disruption. Not far from here is Shoreline Park in Port Moody. You can usually find shorebirds on the mudflats and with a little perseverence Noons Creek can be a good spot for American Dipper in winter. We often start at Minnekhada Regional Park in the early morning to see what is lurking in the fields and trees next to the road. It's then a short hop back to the latter two locations.
If you have the time, a good late Spring or early Summer location is Grant Narrows Regional Park, part of the Pitt-Addington Marsh Wildlife Management Area in Pitt Meadows. Here you should have an easy time capturing Osprey and Townsend's Solitaire along the lake edge of the dike walk. For the former, you'll need a long lens, extender and gum boots to navigate throughout the soft tidal marshland to position near the nesting pilons. Although it's best to keep well back so as not to stress the birds, most are accustomed to human activity due to the volume of marine traffic in the area.
Richmond Nature Park is a typical river delta peat bog (Westminster Highway and No. 5 Road) that has good walking trails but dense habitat, making positioning difficult. We like this location in winter. With leaves off, it is much easier to find Dark-Eyed Junco, Black-Capped Chickadee and Winter Wren. There is usually a Cooper's Hawk hanging around the small bird feeders behind the Nature House. Another good location, especially in Spring, is the north arm of Iona Beach Regional Park near the airport. It's a particularly good location for Spotted Sandpiper.
The West Dike Path in Steveston from Scotch Pond to the Terra Nova Natural Area can often be good for American Bittern and Marsh Wren. In April, migrating Lesser Snow Geese are generally abundant in the fields next to the Terra Nova entrance and offer the opportunity to practise flight shots or simply work with capturing white on darker backgrounds.
Each November a few thousand Bald Eagles arrive to feast on spawning salmon in the Chehalis estuary. This is a tough venue and is best approached by boat on the Harrison river. There are a myriad of challenges including "skittish" birds, river currents, boat movement, light extremes and a plethora of gulls that continually get in the way of isolating a decent subject. People are also a factor as there are fish counters on the river that the birds shy away from. We recommend at least a long lens (500mm or 600mm) with either a 1.4X or 2.0X extender. Don't count on capturing action images by trying to bait these birds as there is simply too much food available. You'll definitely need to work the river as isolating decent subjects at eye level is a difficult task. Nonetheless, it makes for a great day if you enjoy the challenge of photographing a majestic bird in its natural setting. We encountered low light resulting in high ISO images that tended to be "soft" and a nightmare to post-process. To see how we fared, view Gallery 71.