Our foray into north western Colorado bordered on what almost became a trip to hell. This is high moutain terrain riddled with what seems to be hundreds of old gold mining and mineral properties. Mount Evans, on the outskirts of Idaho Springs, is typical of the "top-of-the-world" scenery that you can experience in this remote and rocky wilderness.
Here, Mountain Goat, Bighorn Sheep, Pika and the ever present Yellow-Bellied Marmot (known locally as the "Whistle Pig") populate the mountain slopes. Although there is road access to the 14,264 foot summit, it is precipitous and difficult to stop in most places for any roadside photography if wildlife is present. The best opportunities are along the Pesman Trail, at the Summit Lake parking lot or right at the top. This is the definitive location in North America to photograph Mountain Goat. They can be anywhere between the tree line and the summit depending on the time of year. We visited near the middle of June and found sightings to be "hit-and-miss." Unfortunately, a late Spring produced colder than normal temperatures and sharp high winds were keeping wildlife off the exposed slopes. In fact, Summit Lake was covered with snow and the surrounding tundra was devoid of early blooming alpine flowers that should have been peeking through at this time of year. Wind chill made the mornings brisk to say the least. This was certainly disappointing as by all estimates the photography should have been bordering on exceptional.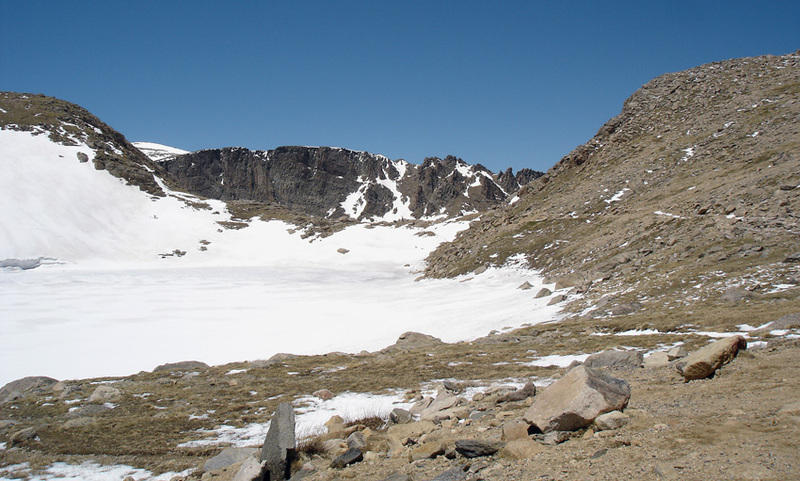 Our solution was to wait it out by touring Rocky Mountain National Park looking for good locations until the inclement weather abated. Sure enough, about a week later the wind finally subsided somewhat and a few days of cloudless skies and warmer temperatures got the animals moving. Mountain Goat finally made an appearance at Mount Warren next to Summit Lake pictured above. We followed a small group throughout the morning on the cliffs and hillside as they foraged and enjoyed the sun. Although the lack of oxygen at this height forced us to pace ourselves as we climbed and sought position, we found our subjects relatively compliant and certainly not stressed by our presence. The backdrops in places are breathtaking and the photography, with a little luck, is extremely fulfilling as various behaviors and poses occur. Although several animals descended and visited the old warming hut, the majority would forage on the hillside, rest awhile and then disappear down the back slope to the Chicago Lakes presumably to get out of the wind for the afternoon. As this sheltered area is also their traditional birth place, we suspect the young were staying put until better conditions prevailed. Although a few animals had reached the summit, the majority we found kept to a morning/afternoon routine in the vicinity of Mount Warren for the time we were there. We frequented the upper slopes and crest with fair success given our inexperience with the area and the abnormal weather conditions. You'll find that the animals tend to go pretty much where they please. As we didn't meet anyone with local photography experience, we simply adopted the tack of going with the flow and positioning for front light as best we could. Although we had little success finding better locations, a little diligent poking around will undoubtedly bring a few to light.
This is arguably the best time of year to capture images as winter coats are still pristine and the road relatively traffic free. You should be aware, however, that the Mount Evans Scenic Byway is a route that many cyclists and runners challenge. If bike and pedestrian traffic is heavy, you'll obviously have to take your time. As the alpine tundra takes decades to form, it's also best to keep to the marked trails or gravel patches and bare rocks as walking on any of the indiginous vegetation will damage what are essentially fragile organisms. At lower elevations, there are rare stands of Bristlecone Pines that may be some of the oldest trees on earth. Fortunately, this area is relatively accessable and with a little work can yield some very exciting photography. Our lens of choice was the 100-400mm. However, with a little patience, a 70-200mm would certainly yield some good results. If you have a wide angle lens, put it in your bag as the view from the crest of Mount Warren looking down at the Chicago Lakes is simply spectacular. Expect to do some high altitude climbing in a climate that can change rapidly. During our stay, wind chill was a factor daily!
We certainly weren't expecting the wildlife to be in pristine shape as June is not the best month to photograph Elk, Bighorn Sheep and Moose. We chose to drive the east entrance through Estes Park early in the morning to keep the sun at our backs as we followed the tour route west back to our base camp at Idaho Springs. We were looking for not only good wildlife locations but also full service camping spots that would provide easy park access. However, bad weather continued to plague us as the Ridge Trail was closed at Rainbow Curve. Moreover, all the meadows and hillsides surrounding the popular Sheep Lakes location were also closed to the public, making for an extremely unfriendly atmosphere. Any wildlife we did find was difficult to photograph as roadside barriers inhibited parking. We did find an active Badger burrow but were promptly told to move along as the location was off limits. We did try to drive the west entrance a few days later but encountered dense fog near the summit of Berthoud Pass and had to turn back at the Robber's Roost beaver pond due to heavy snow flurries. Not to be put off, we tried again a few days later and made it through the Kawuneeche Valley to Milner Pass where the road was once again closed due to icy conditions. Getting through this park in the middle of June was definitely not in the cards this trip!
We did find the valley meadows much better for photographing Elk than the east entrance locations, especially the big males with velvet covered antlers. However, we had difficulty positioning and side light created shadows on most of our images. We did find several Moose near the Beaver Ponds but park cleanup crews and difficult roadside access made photography impossible. The images we did take were of animals that had undergone a tough winter as our subjects were skeletal, shedding hair and in pretty mangy condition. Several local photographers recommended the Willow thickets on the outskirts of Grand Lake near the Trail Ridge Grill as a good bet if you can't find subjects in the park. Notwithstanding, we feel this area must be worked and if you do visit it should be for a clear photography objective such as male Elk sporting velvet antlers.
If you have the time, a worthwhile side trip is Prospect Park just off Exit 266 on the outskirts of Denver. This is an early morning or very late afternoon location where it's possible to encounter Red Fox if you keep to the trails on the west side of Clear Creek. We enjoyed our walk through the park and found several good spots where Western Red Squirrel and House Wren were fairly prevalent. We did see Red Fox but were unable to capture any images.
If you do visit north western Colorado, the Cottonwoods RV Park on Highway 103 west of Idaho Springs is a good location for access to the Mount Evans Scenic Byway and Denver. Similar facilities are available in Estes Park and Grand Lake if you want a more convenient access to Rocky Mountain National Park. Don't let our experience deter you from encountering what these locations have to offer. You can see how we fared by reviewing Gallery 41.