We had such an awesome time photographing Greater-Sage Grouse in Wyoming that we couldn't resist the urge to repeat the experience with Sharp-Tailed Grouse. Again, the middle of April is prime time as they gather to display and breed. As the best locations we found for active leks were in Idaho and South Dakota, we decided to try the latter as a trip through Montana afforded the opportunity to view and photograph another target species that had garnered our attention, the Feral Horse or Wild Mustang.
We started quietly near Big Timbers at the Greycliff Prairie Dog Town State Park. Here, coteries of Black-Tailed Prairie Dog whistle constant warnings of impending danger and scuffle to protect their turf. They are devils to photograph in full view as they tend to sit submerged in a burrow opening, peering around for danger. We found sitting quietly on a roadside boulder on the upper loop mound was the best approach to drawing them out and a 400mm lens was enough to capture at least a pleasing documentary image. We have passed many "towns" in our travels and have never really found any to be easy to photograph. The notable exception is Wind Cave National Park near Custer, South Dakota. If you manage to visit this area, take the Red Valley Road off the Wildlife Loop (Highway 16 in Custer State Park) for about two miles. We drove right through "town" and found they didn't pay much attention to us if we used our truck as a blind.
Greycliff was a pit stop on our way to the Bighorn Canyon National Recreation Area and the adjacent Pryor Mountain Wild Horse Range. Here our intention was to tour the mountain sides and water holes by 4X4 looking for the elusive bands of Mustangs that winter on the lower slopes. We weren't expecting any great action as we were led to understand that the best photography is really after the fouls are dropped in May when the stallions gather mares and fight to protect their brood throughout the coming breeding cycle. Notwithstanding, we felt it was an opportunity to become familiar with the territory and gain a better understanding of their behavior. Our prime objective was simply to capture some documentary images showing them in their natural setting and hopefully illustrating some typical behaviour. We weren't disappointed but certainly surprised to find that other species abound, most notably Ring-Necked Pheasant and Bighorn Sheep.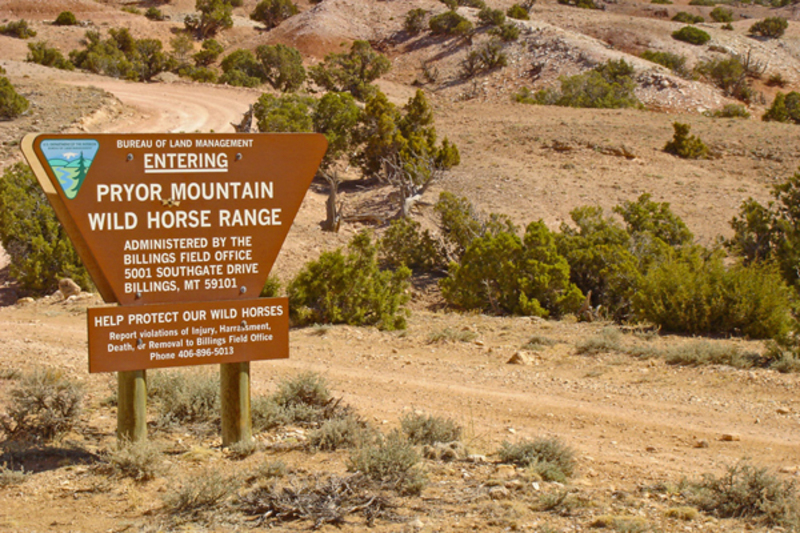 This area skirts the Wyoming border and is best approached through Lovell. Take Highway 14A and make a left on Highway 37. Your choice is now to either follow the highway to the end at Barry's Landing and look for wildlife at road side or take the more adventurous route and 4X4 the adjacent hills. If you try the latter, as we did, the upper roads are rugged, very rocky and will challenge your driving abilities, demanding a high clearance vehicle with tough sidewall tires. If you take this route, the Wild Horse Range that encompasses most of the south slope of East Pryor Mountain provides a stunning vista of the Bighorn Basin. Over one hundred Mustangs range from the high meadows to the flats of Crooked Creek Valley, traversing what can best be described as juniper infested foothills and desert badlands. An alternate approach is simply to book a local tour, an option we will certainly entertain on a return visit. This is the best way to save time and not undergo the exasperation of trying to find horses in what is a vast and very remote area. You'll also find the odd dead end as many of the upper roads branch and are unmarked. Ask for details at the Wild Horse Visitors Center as they will know the location of most of the bands. If you do decide to go it alone, there are two routes. Take the Crooked Creek Road off Highway 37 (left just before the park entrance) and travel to the junction of County Road 16. Left takes you to Burnt Timber Canyon and Tillet Ridge (turn right after the cattle guard just past the Britton Springs Corrals to find the range entrance). Right takes you to the Sykes Ridge entrance.
If you're not up to the high mountain terrain, then the Highway 37 route is unlikely to disappoint. Watch for herds near the range entrance or just past the Devil Canyon Outlook. This latter location is a great natural landscape and a good bet to find Bighorn Sheep. The roadside just north of Horseshoe Bend is a haven for Ring-Necked Pheasant in the early morning and late evening. You can view our results from this area in Gallery 56. This is an area that we would definitely like to try again.