The Grand Teton and Yellowstone National Parks are located in the north west corner of Wyoming and are arguably two of the best wildlife photography locations in western North America. At the very least, their grandeur and potential are second to none. Having said this, it was here that the penny finally dropped regarding just how hard it is becoming to find and enjoy wildlife photography in many of the "big park" settings. A great many now "manage" all wildlife activity and impose restrictions on parking and approach. This is not to say that these measures are not required, simply that roadside traffic and congestion is becoming insane. Beginners will definitely enjoy the challenge but intermediate and serious amateurs we have met are increasingly experiencing poor fare. Finding where a target species is concentrated and positioning for light and backdrop takes time and can be an unrewarding process as more access restrictions or management practices are imposed.
From the perspective of scenery and weather, Wyoming is a landscape of stark contrast and extremes. With the exception of the grandeur associated with Grand Teton and Yellowstone National Parks, Wyoming is a vast expanse of sagebrush-grasslands with the odd exposed volcanic badlands. Throughout you will encounter harsh cold and brutal heat with what seems to be a never ending dose of wind. Without exaggeration, the weather changes constantly!
Once you exit the major parks, the remainder of the State takes on the distinct appearance of a wasteland. In reality, it houses an immense free-roaming wildlife population, most notably Pronghorn, Greater Sage-Grouse and Mule Deer. Each requires these extensive, uninterrupted native habitats to roam freely between summer and winter range. Sagebrush provides their major food source, especially in winter when snow covers most other vegetation.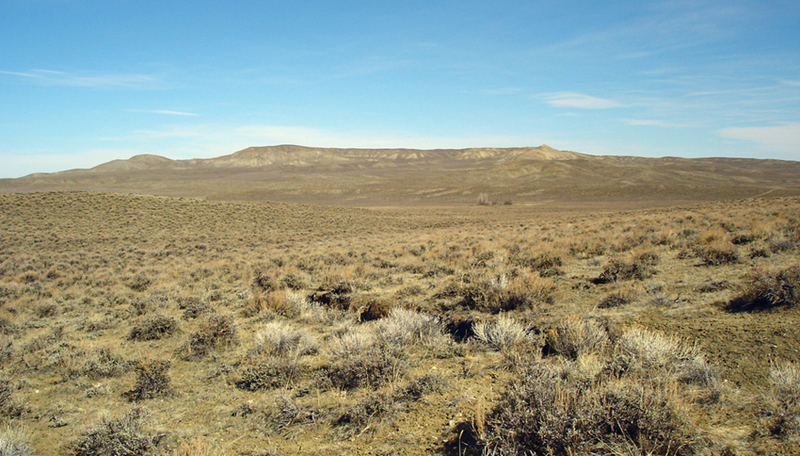 The best time of year to encounter and photograph Greater Sage-Grouse is late March to very early May when they gather in breeding sites or "leks." These are typically open area's surrounded by sagebrush where the male struts and displays to attract females. This activity is confined to sunrise or dusk. If you plan to visit it is important to understand that leks are continually being compromised as livestock grazing, fire and petroleum development either destroy or encroach upon sagebrush habitat. As such, this species is now managed under a Conservation Plan by the Wyoming Game And Fish Department. Although their current program protects leks, a small number of locations are disclosed where viewing and photography are allowed subject to ethical behavior on the part of the observer. For the photographer, this entails in-vehicle image capture which can be quite challenging but certainly not impossible. We visited six leks in early April (Hat Six at Casper, Windy Flats at Cody, Cottonwood at Gillette, North Halfway Hollow at Green River, Twin Creek at Lander and Bluebank at Worland). Detailed information is available online by downloading the Wyoming Sage-Grouse Lek Viewing Guide. Although the directions are for the most part accurate, we can state from the outset that each location is impossible to identify during the day as the terrain is relatively homogeneous and contains no obvious indication that a breeding area is actually present. We recommend getting to the general area before sunrise and simply searching for grouse activity either near or on the road. In our experience, this was the easy part. Male display is usually well underway by sunrise and lasts only briefly. The window for photography is roughly 45 to 75 minutes and is dependent on weather and the number of females present. Moreover, movement and the yellow cast from early morning light can be challenging. We used a higher than normal ISO and kept a close eye on shutter speed. Nonetheless, we found the activity frenetic and with the minor exception of positioning our vehicle, the viewing and photography learning experience was very worthwhile.
This is also a great time of year to photograph Pronghorn as their winter coats are still in pristine condition. As we drove between leks, we were always on the lookout for roadside herds or lone individuals that we hoped were relatively used to human traffic. Invariably this was not the case as we found most animals very wary, especially if we tried to exit our vehicle. This is not all that surprising a result as wildlife in other than protected, well traveled areas are generally not compliant if approached. Our best success was in-vehicle, on the outskirts of populated areas where we could pull well off the highway and position the vehicle above the ever present obstructing fence posts. Opportunities abound, however, as this species is extremely prevalent throughout the State.
It was also fun to stop and photograph the Wyoming Ground Squirrel. As they spend a large portion of their lives hibernating, this is a good time of year if you have the patience. For the most part, we found that colonies were confined to the south western portion of the State, with the best access and most compliant subjects next to rest stops. There is also a large population in central Wyoming near Casper which can be easily observed on the Hat Six Road (which leads to the only lek we found that was marked with a large sign). You should be aware that their predator communication skills are extremely well developed, resulting in the need for a fair amount of patience when trying to capture an image close to one of their access holes.
For all the above, we recommend a long lens, either 500mm or 600mm coupled at times with a 1.4X extender. Plan to wear warm cloths if you are out before sunrise. Gloves are an absolute necessity as we encountered below freezing temperatures most mornings, often with severe wind chill. If you intend to rent a vehicle, it goes without saying that something larger than a compact is required as photography with a long lens from a confined space is absolutely insane!
Images from our trip can be viewed in Gallery 37.
This park houses a striking contrast of sagebrush grassland, willow wetlands, meadows and small lilly pad laden lakes bordering steep mountain grandeur. The name Jackson Hole is quite appropriate as the Snake River meanders through this cavernous lowland. Bordered on the west by the magestic Teton Range, the east by the Bridger-Teton National Forest and National Elk Refuge, the park is a haven for wildlife, albiet seasonally. This is Moose country, best timed for the latter part of September. We recommend keeping off the well travelled paths and wait until late fall for the tourist traffic to decline somewhat, aspen to produce vivid color and colder temperatures to bring lustre back to winter coats as the breeding season gets underway. We camped at Colter Bay which provided central access to both major routes through the park. We certainly had no expectation of producing great photographs as our knowledge of the area was limited to what we had gleaned from prior research.
Our first impression was one of positioning as the sun casts light on the Teton Range in the morning. As such, we started with locations on the east side of the park. From Jackson Junction, we headed toward Oxbow Bend, taking the first dirt road right leading to a calm portion of the Snake River favored by fly fishermen. Although this is a good location for Moose, we found a compliant juvenile Bald Eagle perching on the far bank (our lens of choice was 600mm with a 2X extender, enhanced by wading roughly 20 feet into the river and planting our tripod in solid gravel). A similar spot for Moose and one that just might produce a Beaver if you get an early start is Schwabacher Landing. The mountain backdrops here are simply breathing. To complete a morning circuit, try the grassland and butte off Gros Vendre Road or Mormon Row for Plains Bison and Pronghorn (the latter will soon leave, however, migrating to their winter range near Green River).
Elk seem to hang out near the north Jenny Lake Entrance. You should know from the outset that Elk here are habituated to feeding in open areas during early morning and late evening, spending the remainder of the day staying cool in the adjacent dense forests. This provides little time for any really productive opportunities. Other morning sites we tried for Moose were Christian Pond (walk the surrounding trails, including Emma Matilda Lake) and the nearby Willow Flats (walk the lower trail toward Colter Bay). As the large males were beginning to descend from the forest slopes, we also tried the String Lake Trailhead to the boat dock at the Inspiration Point assent. Absolutely the best locations for Moose are the Gros Vendre Campground and the first two miles of Wilson Road from the south entrance visitors center.
A great afternoon location is Signal Mountain. Here you should find Blue Grouse near the summit. If you are on the adventurous side, a 4X4 will take you through rarely traveled portions of the park, including the central River Road and the access to Spalding Bay. Although we traversed both and experienced some very remote coutryside without flushing up any good opportunities, it's well worth the time as the scenery is extraordinary and Great Gray Owl may lurk in the many clearings available roadside. We also walked the Swan Lake, Heron Pond loop from Colter Bay and found stunning lily pad backdrops but again were unable to find Moose despite considerable sign.
Overall we had a good time in this area but felt we were a bit early. Our best opportunities were Plains Bison grazing on buttes with the Teton Range as a backdrop. Here a "closed down" 70-200mm lens created sufficient depth of field to bring the mountains into focus.
Images from our trip can be viewed in Gallery 42.
This is a vast area with a diverse landscape. It's also arguably best in late April or May for wildlife photography as winter coats, wind and abundant snow make for very compelling images. Nonetheless, we visited in early fall and found most wildlife concentrated in the central to northern regions of the patk, specifically Hayden Valley, Lamar Valley and Blacktail Plateau. Driving south from Gardiner, we stopped at Sheepeater Cliffs and found Pika nesting throughout the stones facing the parking lot and in the upper grotto. Further along, we found Coyote in the fields at the entrance to the Norris Campground and Plains Bison in Hayden Valley where a river crossing and dust roll produced some interesting opportunities. Heading east, we looked for Great Gray Owl in the off road clearings near Canyon Junction but were informed that the resident pair had been killed by traffic earlier in the year. Heading north, we traversed Dunraven Pass and were disappointed to find no Black Bear or Grizzley Bear feeding on late pine nuts. Tower Junction, however, produced Bighorn Sheep. We took the turn to Lamar Valley and travelled as far as the Ranger Station. Walking the fields, we encountered several small groups of breeding Pronghorn and watched a mature Coyote catch voles in the tall grass. A word of caution, a full sun can produce visible heat waves on moist grassland (known as Schlieren patterns), creating a situation where focusing can be extremely difficult using a long lens. We've encountered this before and had to discard an afternoon's shoot that produced extremely soft or out of focus images. Heading back to camp, we drove the Blacktail Plateau and encountered many Mule Deer. This completes a very good circuit which we essentially repeated for the remainder of our visit with different variations and side trips, adjusting for morning and afternoon light.
Most wildlife photography here requires a long lens, from 400mm to 600mm, with a 1.4X or 2X extender available to keep from stressing certain subjects. Images from this part of our trip can be viewed in Gallery 43.
Yellowstone was an epiphany for us as landscape photographers were taking advantage of the many geysers and aspen groves as they spouted steam and changed color respectively. Trying landscapes with a borrowed 28-300mm lens, circular polarizing filter and external shutter release just blew us away and left us thinking about a new series of Galleries!