Southern Texas is an extremely prolific region for bird and wildlife photography. A wide variety of species inhabit this relatively small area which is bounded inland by the Rio Grande Valley to the waters of the Gulf Of Mexico. Absolutely the best time of year to visit is between the middle of March to early May. Not only can travel be accomplished in a timely fashion but also camping sites are easy to find, making this a relaxing area to traverse and explore. Although the locations we recommend are fairly representative of what south Texas has to offer, we can assure you that they in no way exhaust the potential of this area.
In south Texas, we found a host of easily accessible public locations with one notable exception to other areas we have visited. Many south Texas ranches cater specifically to nature photographers. For a fee, locations are available where birds and wildlife are attracted year round to regular feed and water, most with well established blind setups. Although opportunities vary by time of year, it is worth at least two days at selected locations as the "set-piece" perch photography is second to none. Four of the most notable ranches in the Edinburg area are Laguna Seca, Martin Refuge, Santa Clara and Dos Venadas. On an earlier trip, we visited the Ramirez Ranch in Roma and the now closed Martin Homestead in Edinburg, specifically for Harris's Hawk and Crested Caracara at the former and Great Kiskadee at the latter. The best public venue we visited was the World Birding Center (Estero Llano Grande State Park) near Weslaco. Our results are in Galleries 9, 11 and 79 respectively. We strongly advise that you search for photographers who have organized photo tours in this area as most of the programs offered are informative and very cost effective.
The RV park at Destination South Padre Resort next to the Black Mangrove Tidal Flats across from Port Isabel was our home base while in this area. It's a great place to stay and central to the locations we frequented. A good place to start is right next door at either Fish Bones pier or the inner harbour at the rear of Dirty Al's Bait Stand And Seafood Kitchen. Here, portraits of Pacific Brown Pelican are easy to capture as they preen and roost on the pylons or simply sit lazily in the water awaiting a fish entrails handout.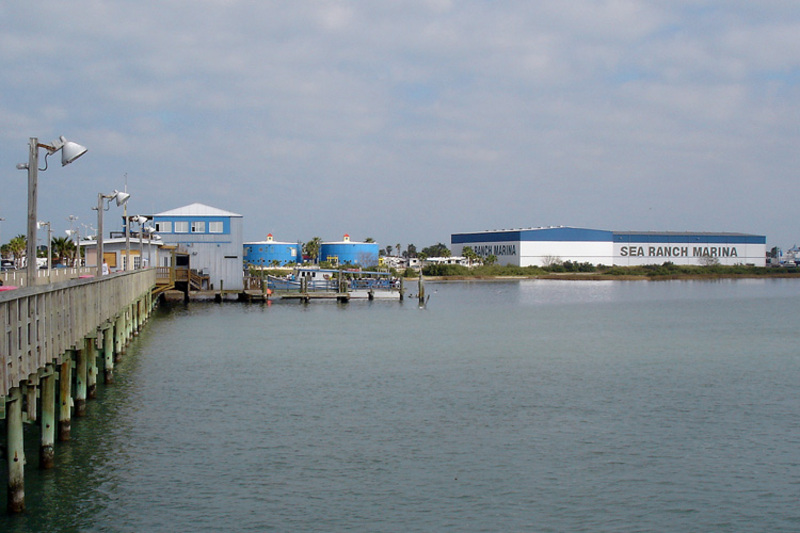 Just up the road at the Convention Center is the boardwalk at the Laguna Madre Nature Trail where we found Clapper Rail, White Ibis and Little Blue Heron to be quite compliant. The pier is also one of the best locations for flight shots of Black Skimmer as they cruise for dinner in the late afternoon. We found the Laguna Atascosa National Wildlife Refuge near Rio Hondo to be a great drive through but disappointing from a photography perspective as much of what we saw was from quite a distance. However, this is a must location as Greater Roadrunner make an appearance at roadside in late afternoon next to the Refuge entrance and Aplomado Falcon and other raptors are abundant on all the surrounding farm roads. We spent little time at the photography blind as it was overgrown, shrounded in low light and so cluttered that isolating a subject with a good background was impossible. Although we found similar heavy vegetation at the Sabal Palm Audubon Center And Sanctuary at Brownsville, there were many birds and it is a good location to isolate Black-Crowned Night-Heron and Belted Kingfisher as the boardwalk and photography blind provide many relatively open access points. Gallery 10 contains our output from this area.
If you decide to try the upper island, Lagoons RV Resort is a good place to stay. Our favourite location is the Port Aransas Birding Center where we enjoyed flight shots of Black-Bellied Whistling Duck and Roseate Spoonbill. Although the nearby Paradise Pond was fairly overgrown, it is a great place to find roosting Great Blue Heron or various Passerines such as the Yellow-Rumped Warbler. If you have time, a drive along the beach at Mustang Island will definitely provide opportunities for various shorebirds. Many photographers also frequent the causeway access to the Port Aransas ferry. As we headed home, the area surrounding Sandy Hook Beach on Route 36 South either at roadside or near the shoreline was usually quite productive.
In town, Fulton Harbour is a hangout for American White Pelican as fisherman often dole out buckets of fish guts in the late afternoon. The pier is always great for practising flights shots of Laughing Gulls and a walk around Rockport Beach Park usually produces something of interest.
Goose Island, especially near the pier, is a good place for Willet and Long-Billed Curlew. A great day trip is the Aransas And Matagorda Island National Wildlife Refuge as Wild Turkey, Javelina and Armadillo are abundant. Although the attraction here is Whooping Crane, they are simply too far away even from the elevated viewing platform for any realistic photography opportunities. If you want to try and get closer, it's best to book one of the targeted charters such as birding boat tours specifically designed for photographers. We enjoyed a great day on the "Jack Flash" and the trip provided a opportunity to see the Refuge from a completely different perspective. Our results from this area are in Gallery 12.
Bird photography in Texas can be prolific given not only the varied indigenous species that inhabit the coastal and inland areas but also the incredible number of migrants that cross the Gulf of Mexico from the Yucatan Peninsula in early spring and late fall. Although it's an incredibly large State, in our opinion the best bird photography is confined to an area that encompasses the coast from Houston to South Padre Island, moving inland through the Rio Grande Valley bordering Mexico up to Roma and the outskirts slightly northwest of Edinburg. Seasonality and weather are the prime factors that will influence productive bird photography, the best months being February in the south and May as you progress north.
As we've previously recommended in this synopsis, a great way to start a trip to this area is to visit a private ranch that caters to bird and wildlife photographers or to book a workshop that targets species that are on your bucket list. We did both on our late April trip in 2014, first visiting Santa Clara Ranch near McCook for some blind and perch photography then moving on to a workshop on Galveston Island targeting early spring migrants. For songbirds, we also "worked" the water features in forest habitat at several well known migrant traps on Galveston Island (Laffite's Cove Nature Preserve, Corp Woods Nature Sanctuary and Dos Vacas Muertos Bird Sanctuary), continued on to a series of bird hotspots along the Bolivar Peninsula (Anahuac National Wildlife Refuge, Audubon High Island Smith Oakes Bird Sanctuary, Rollover Pass, Frenchtown Road Conservation Area and Bob's Road), ending our trip by inching our way slowly inland (Brazos Bend State Park, The Brazoria National Wildlife Refuge, Quintana Neo-tropical Bird Sanctuary and Xeriscape Park) and finally the nearby shoreline (Bryans Beach and the Quintana Jetty). Our early research relied heavily on a book by Jim Stevenson, a prominent Galveston ornithologist, photographer and author of "Birdlife of Galveston." Thereafter it was a simple matter of isolating locations that looked promising and trying to minimize our driving time. Fortunately, we had met several local photographers on past trips that were able to provide advice to help improve our productivity. Our target species this trip were migrants (such as the Painted Bunting and Scarlet Tanager) and shorebirds (such as the Reddish Egret and Roseate Spoonbill) that we'd only caught fleeting glimpses of in the past but are common fare for Texas photographers!
If there is such a thing as "birding paradise," Galveston Island could easily lay claim to the title. This is due to its varied habitat, robust resident population and a spring and fall trans- and circum- Gulf migration that is arguably unrivaled anywhere in North America. In total, the area supports over 400 species annually and is best known for its prolific migrant traps. Notwithstanding, it's impossible to take it all in during one visit. Our focus on this trip was the early trans-Gulf migrants which, given favorable weather conditions, we hoped would be prevalent during the latter part of April and early May. We planned our location selection to coincide with what we consider to be optimum bird activity, shorebirds at low tide and songbirds during early morning and late afternoon, both with the sun, of course, at our backs. A long lens of 500mm or greater with a teleconverter (extender) is a must for this area. Success, as usual, is completely reliant on the weather. With luck, a prevailing cold front with high winds will push birds across the Gulf and create spectacular results. However, a preceding west wind will most likely shift landings elsewhere, leaving you wondering what the hubbub is all about. A prolonged rain will also tend to ground birds and lead to less than optimal photography opportunities. If all else fails and the migrants simply trickle in, you certainly won't be disappointed chasing the resident population. Besides the locations noted above, we concentrated on the beach and mudflat area surrounding San Luis Pass on the south western tip of the island, including each end of the toll bridge. Shorebirds and waders were prevalent roadside in the marsh along 8 Mile and Sportsman Roads in the late afternoon and early evening. There we encountered Cattle Egret, Reddish Egret and Tricolored Heron. Galveston Island State Park can be good for Eastern Kingbird and White-Tailed Kite. However, the best shorebird photography we encountered on the island was the East Beach Lagoon, particularly for Royal Terns, Black Skimmers and Laughing Gulls. Keep an eye out as you approach the beach entrance as you'll drive through East Lagoon Preserve and Big Reef Nature Park. For Sandwich Tern, Least Turn, Sanderling and Ruddy Turnstone, drive the beach south of the toll booth either morning or afternoon, using your vehicle as a blind.
Although the above brief sketch is meant as a quick overview, we certainly had some favorite locations. The Forty Acre Lake walking trail at Brazos Bend State Park leads through a Live Oak and Hackberry forest mottled with cascading Spanish Moss. Here the waterway hosts Yellow-Crowned Night Heron, Purple Gallinule, Little Blue Heron and Green Heron and is a good place to catch early migrants such as Prothonotary Warbler and Northern Parula. Watch for Alligators and Poison Ivy as the trail edge can be a dangerous place for the unaware. The auto route at Brazoria National Wildlife Refuge is good for Common Yellowthroat roadside. Again, be aware that Chiggers and Cottonmouth Snakes can be a hazard. The Quintana Neotropical Bird Sanctuary and adjacent Xeriscape Park are morning events and in our opinion have better open water features than those found on Galveston Island. There is also the opportunity to capture Purple Martin in flight at the Visitor's Center. The drips at Laffite's Cove Nature Preserve, for example, are dark, cluttered with habitat and not designed with photography in mind. There you are almost better placing a small perch baited with an orange at a convenient location and waiting for a hungry Scarlet Tanager. We certainly enjoyed driving the shoreline at Bryans Beach and the nearby jetty as we found Least and Sandwich Terns provided good flight image opportunities. The surf also coughed up several gulls, most notably the Lesser Black-Backed, California and Herring, contributing overall to a satisfying photography experience for this area.
The auto route along the Anahuac National Wildlife Refuge is a haven for Least Bittern. Watch for Scissor-Tailed Flycatchers along the entrance driveway. A must, of course, is the rookery at High Island. The Audubon Smith Oakes Bird Sanctuary is a late afternoon, early evening event where the main attraction are Roseate Spoonbills and Neotropic Cormorants. Don't let the crowding nests and constant squabbling amongst species deter you. Isolating birds requires patience but many opportunities will pop up and flight images can be good from both ends of the three viewing stands, especially with a moderate wind. The Bolivar Peninsula also has several good shorebird locations. These are located along State Highway #87 (also known as the Blue Water Highway) as you approach the Bolivar Ferry, most notably Rollover Pass, Bob Road and Frenchtown Road. The former is certainly the best as we encountered Black Skimmers feeding at high tide.
Lastly, we enjoyed some perch photography at our host's residence in Sugar Land near Houston. The home borders a protected natural area and we had great fun with Carolina Chickadee, Blue Jay and Red-Bellied Woodpecker. We're always amazed at what you can accomplish in your own backyard!
In 2016 we enjoyed a return visit albeit with a slightly different objective. The height of the spring migration occurs over a period of three to four weeks during late April and early May, making it almost impossible to capture a good cross-section of birds unless you are blessed with unlimited time and resources. We photographed the early arrivals in 2014 and planned to concentrate on later migrants during this trip, in particular the warblers we didn't manage to encounter on our previous visit. We had a list of target species and focused on some of our favorite haunts such as Laffite's Cove Nature Preserve, the Audubon High Island Smith Oakes Bird Sanctuary and the sand flats at San Luis Pass. This latter location is a good bet for shorebirds. At this time of year Black Skimmers, American Avocet, Royal Terns, Ruddy Turnstone, Sanderling and Laughing Gulls are there in abundance. If you look closely, there are usually Franklin's Gulls and Black Turnstones in the crowd. Our advice is not to visit on a weekend as 4X4's, Quad's and Motocross cycles dominate the beach and sand dunes, often motoring right through the bathing and resting birds. We've always had good luck on Sportsman Road, especially for Clapper Rail and the Tricolored Heron. If you want something slightly off beat, try Settegast Road for Helmeted Guineafowl, a species that long ago escaped domesticity and can usually be found roadside. We also had fun photographing a Carolina Anole. Commonly know as the Green Anole, it is a small arboreal lizard with a striking red dewlap or throat fan that when extended makes a great image, especially if caught in natural habitat.
High on our agenda was to track down a Dickcissel, a bird that has eluded us for some time. It's a late arrival and somewhat of a loner that requires a fair amount of patience to ferret out. We visited many of the known locations and finally hit pay dirt at the San Bernard National Wildlife Refuge in Brazoria County. If you visit this location, try the Moccasin Pond Loop just past the Refuge exit sign and look for the birds on the low scrub at roadside.
During our visit, the weather throughout the Upper Gulf Coast was a mixture of sun and clouds with early morning and late afternoon thunder storms on the odd day. This was ideal for landscape photography, especially along the beach front as the surf and clouds created many dramatic moments as we cruised looking for interesting locations. The low cloud, excessive rain and wind certainly inhibited the migrants from visiting the known water traps. We did, however, encounter several new species that were not present on our previous trip, including the Nelson's Sharp-Tailed Sparrow, Seaside Sparrow, Wilson's Plover, Bay-Breasted Warbler, Northern Waterthrush, Magnolia Warbler, Ovenbird and Philadelphia Vireo.
You can view the images from our trip in Galleries 87, 88, 89 and 999. In total, we photographed thirty- nine bird species that we hadn't previously encountered, as well as a host of mammals and amphibians including the American Alligator, Mexican Ground Squirrel, Leopard Frog and Red-Eared Slider Terrapin.